This article will take you through how to create an On-Demand Event from a Self Service Live Streamed Event
Congratulations you have now successfully delivered your Live Stream event and this has been broadcast to a live audience. The media that was broadcast will have been recorded. To attach this recording to your WorkCast account you will need to choose one of the below options:
1) Upload the media that you recorded locally and send a request to support@workcast.com to have an on-demand session added to your event. (you may have edited this using video editing software) To view a guide click here and then follow the below guides on adding your media to your event.
2) Send a request to Support@workcast.com to pull your recorded media from WorkCast's cloud storage area and add it to your account. You will need to provide the below information:
Your account name
Date and time of the recording
Approximate length of the media
Event Title
Session ID
To locate the Session ID click into the event set up page and scroll to the Event Experience tab. In the content tab next to the green run event button you will find an information icon. Click on that and an additional information pop-up will appear. See the below image:

Once your media is in your account this will appear in the Media tab WorkCast will also add a second session to your live event configuration. This will be the new On-demand session. Here you can add your media and also update the Regisistaion or auditorium page text if required. To see a guide click here or see below:
Adding Media to your Event
Once you see the media within the media list (It will appear at the top), you can navigate back to the Events tab on the top menu bar and return to the event. Within Event Setup and Event Experience, go to the Media tab.

Attach your File to your Event
Finally, hit Choose Existing and then search, and select the mp4 file you just uploaded and press add selected.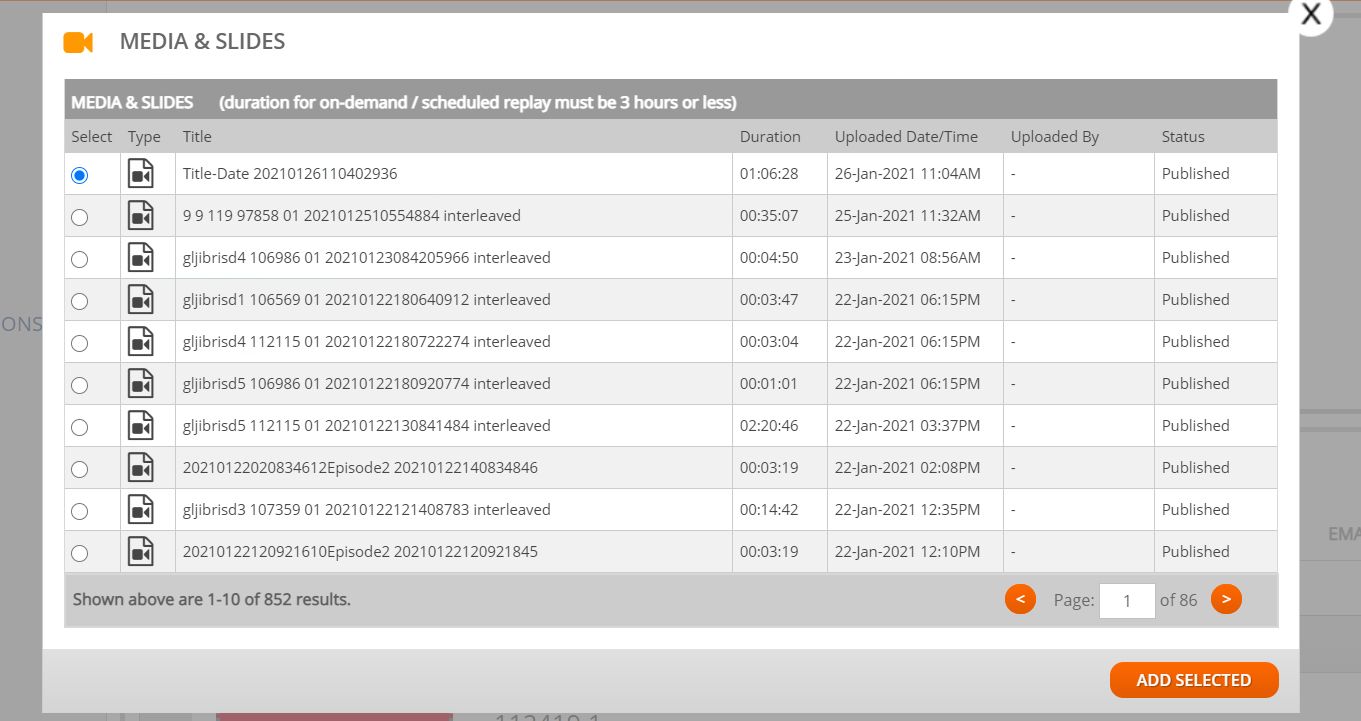 Previewing your event
Your file will now appear in your Event Auditorium, ready to be streamed as an On-Demand event. You are able to press Preview to view this on the Event Auditorium preview page:

or

Click on the Main Event Auditorium Link which you can access as long as you have registered for your event.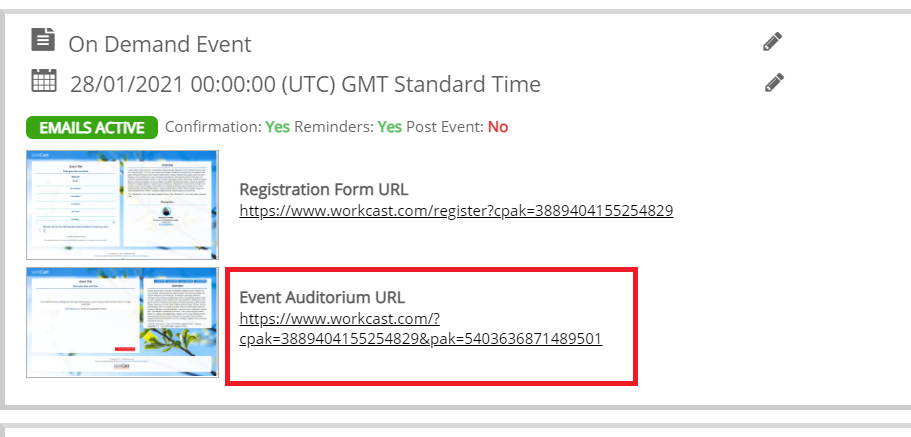 On-Demand: Editing Your Registration Form
If you have already created your On-Demand and want to further edit your Registration Page, you will need to follow some extra steps to ensure this is saved.
Your published On-Demand session appears below your unpublished Live Session. To edit the Registration Page for the On-Demand session, this needs to be moved to the top of the list of sessions.
NOTE: If you do not want any confirmation emails to go out to those who have registered for the On-Demand, then you will need to deactivate the confirmation emails first, before moving the On-Demand session up. (See our guide on how to edit emails here).
Click the bottom On-Demand session and drag this to above the top Live Session. You will get a change warning to confirm this.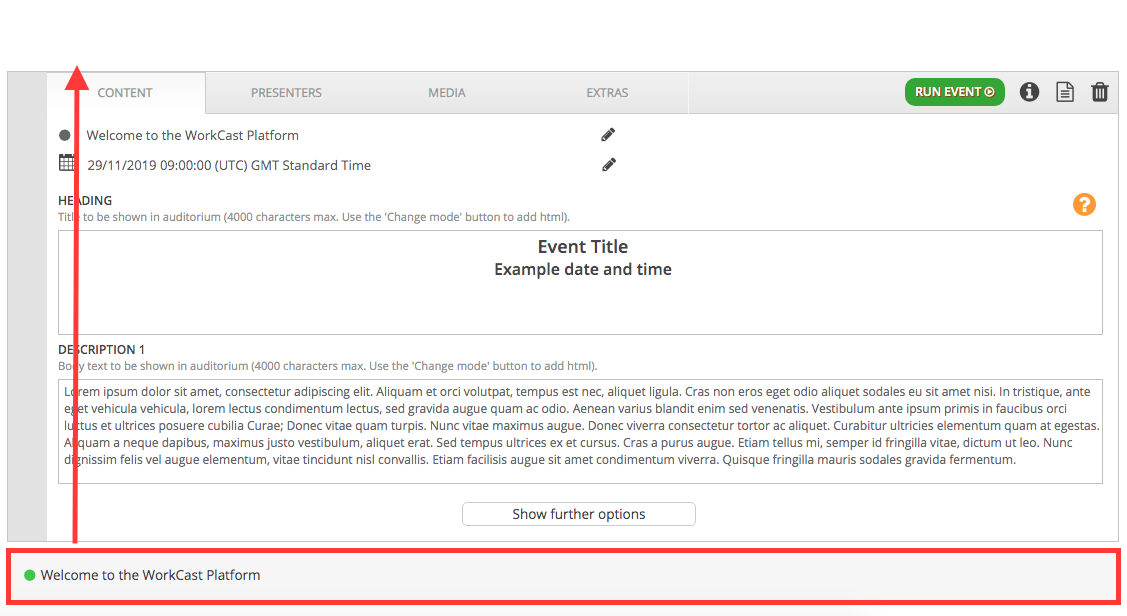 You can now edit the Registration Page by clicking on the Registration Form tab. Remember to Save and Publish changes.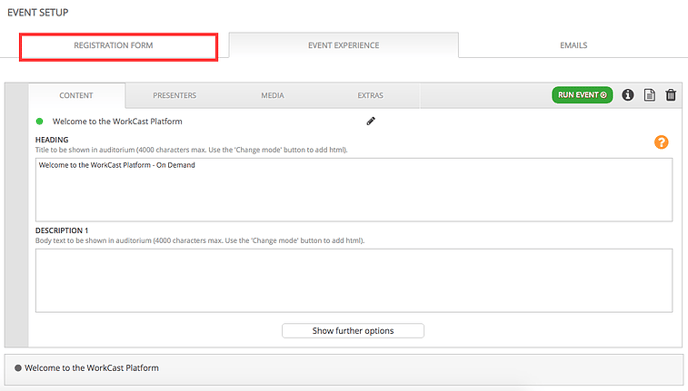 Once you are happy with your changes. Click and drag the bottom unpublished Live Session back to above the published top On-Demand session. You will get a change warning to confirm this.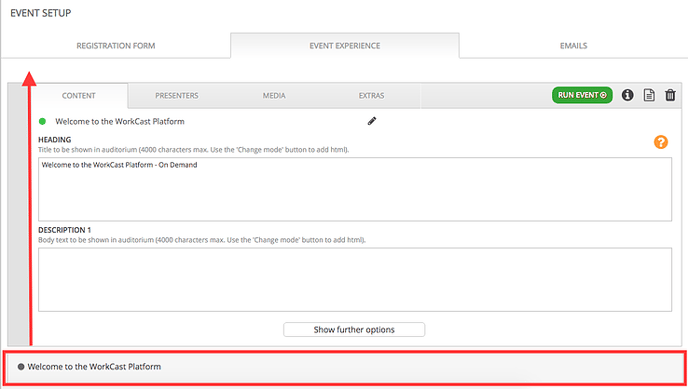 Your Registration Page should now be updated and can be checked.
NOTE: To ensure your event reporting is accurate, ensure that the sessions are in the correct order at the end of this process with the unpublished Live Event at the top and the published On-Demand below this.
Your On-Demand Event URL'S
The live event URL is the same for the newly created On-Demand version. Attendees who accessed the live event will have access to the On-Demand without having to re-register. You do not need to provide different URLs for your On-Demand version.