Where do I start in creating my Virtual Event?
To create an event:
Click the Create Events button, which is located in the menu to the top left of the screen, or
Click the Create a New Event banner, as shown below


Select Virtual Events from the options menu, as shown below. If you are unable to click the Virtual Events button, it may not be enabled for your account. Please contact your Account Manager if you would like this event type to be enabled.

This will then load the templates available in your account. Click Use Template and Create Event to select the template.
Not sure how a template looks?
You can preview the template by hovering over the template.

If you click Preview Template you will see a pop-up, which shows a preview of the Registration Form. Click Next to see a preview of the Auditorium.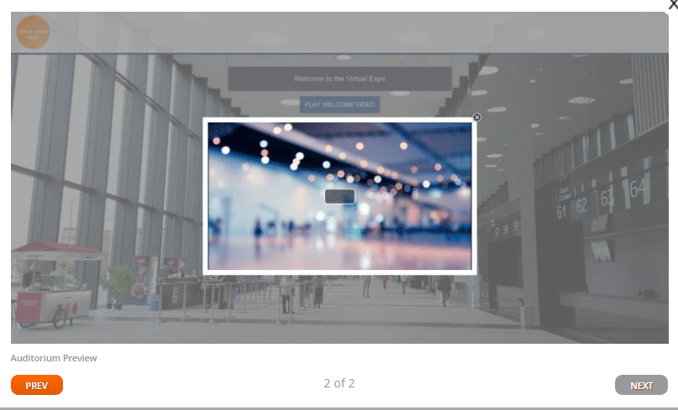 How do I add my event details?
After you have clicked Use Template and Create Event, you will see a pop-up where you can configure basic event information.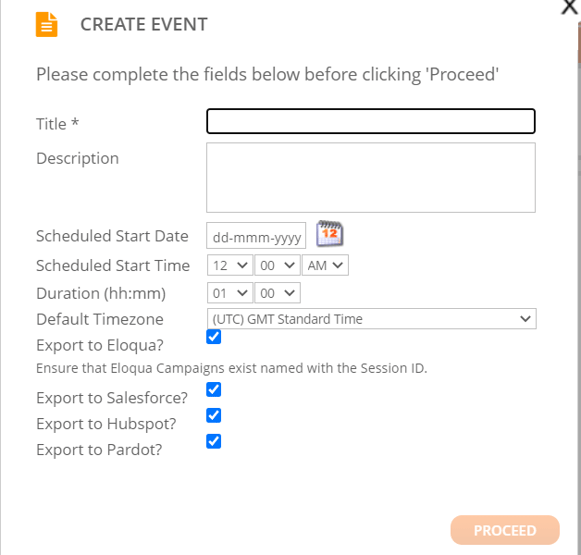 Please enter your Event information into the following fields:
Title: This will be the title of your event
Description: You do not have to enter a description
Scheduled Start Date: The date when your event will be broadcast.
Scheduled Start Time: The time that your broadcast will begin.
Duration: The duration of your event. Select in hours and minutes
Default Timezone: This defaults to GMT, so please ensure this is changed to reflect your location.
Remember: These details can be changed at a later time if you wish to do so
What is data export?
There are four options to export your Event Data;
Eloqua
Salesforce
Hubspot
Pardot
If you use one of these integrations and would like the event data to be exported please select the check box.
Please note: all 4 boxes are ticked initially, so ensure these are unchecked if not required before clicking Proceed.
Once you have completed all fields, click Proceed. It will take a few moments before you are directed to the next page.
How do I navigate the Virtual Event screen?
The next page you will see will be the following. Your screen is split into three sections. You will be able to see:
Event Set up and Configuration on the left
Event Details is located at the top and provides an overview of your event.
Event Setup at the bottom. The Event Setup section contains the Registration Form, Event Experience, Filters, and Emails tabs.

How do I use Event Setup and Configuration section?
In Event Setup and Configuration - you have the following options.
Delete
Add Event Session
Report Setup (this will be covered in a later page)
Manage registrations (this is be covered in a later page)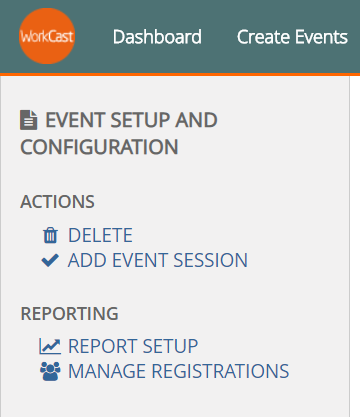 Remember: If you click Delete you will be prompted to confirm this action by typing the word DELETE in the pop-up box. The event will be permanently deleted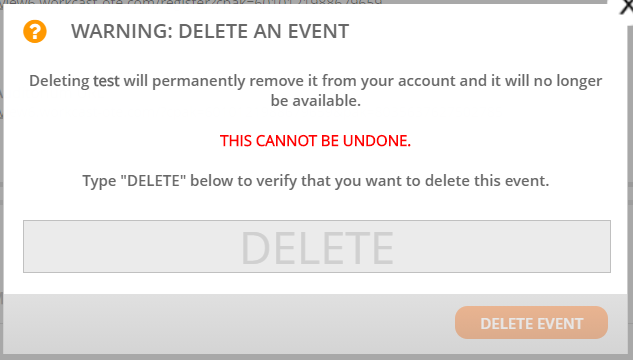 How do I use the Event Details section?
Details about the event are displayed at the top of the page. This includes:
The event name - To edit this field, just click on the name.
The event date, time, and timezone - If you click on this line, you can make any required edits required.
Emails Active - this is to advise if your Confirmation, Reminder, and Post Event emails are active or not. You can read more about this in the Emails section of this guide.
The Registration Form URL - This is the URL your attendees will use to register for the event. If you click on the URL, you can preview how the Registration Form will look for your attendees.
The Event Auditorium URL - This is the URL that your attendees will use to view the event. Tip - You can also use this URL to preview your event!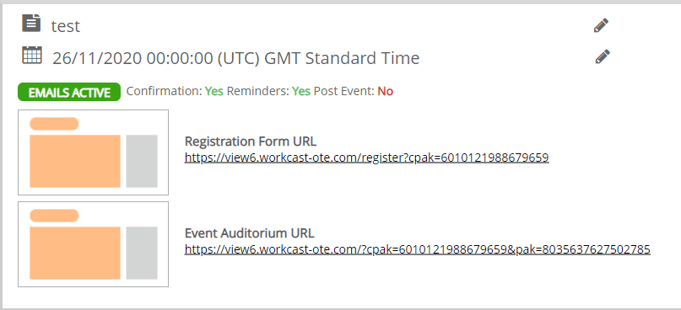 How do I use the Event Setup section?
Underneath the Event Setup tab, you will see four tabs. You can explore these in more detail on later pages:
Registration Form
Event Experience

Content - This varies depending on which page of your template you are editing. Please locate the relevant event session/page for further information.
Presenters
Slides
Extras such as Ask a Question & Participant Chat, Polls, and Documents and Links
Advanced

Filters
Emails

How do I save my event?
Each time you edit a section of the event you will see a green save bar appear.

Once you save your changes this bar will then change to blue and you can preview your updates before making them live. If you are happy you can then make these changes live using the Publish Draft button.

Remember: When you save any changes, this page will automatically default to the Event Experience tab.