An overview of the Emails tab
WorkCast Producer+ and Enterprise license holders have the option to edit email communications within the WorkCast platform.
Overview
Log into the WorkCast platform and click into the event you wish to edit.
Once you are in the event, you will see the Emails tab, please click into the tab.

Within the emails tab, if you want to edit, you must ensure all emails are deactivated.
To do this, untick each email (this will be the tick box that is next to the word Activate), once you have unticked all, press the green save bar at the top of the page.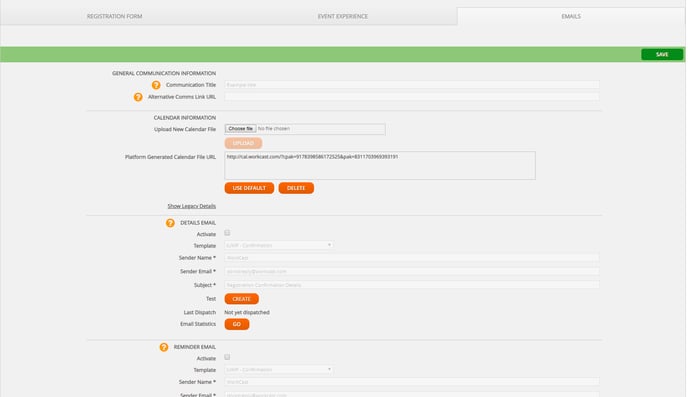 When you press the green save bar, the emails will go from grey to white.

You can now edit.
First, you will see the Communications Title
When you create an event and put a title on it, this automatically pulls through to the communication title. So, if you do end up changing your event title, please ensure you also update the communications title, otherwise, the original title will still display.
Alternative Comms Link URL
This will be blank to start with and can stay blank for most events. However, if you are embedding your event onto another webpage, you will need to add the URL that the event is playing within there. This updates the join the event in the email communications and will direct to the link within the Alternative Comms link URL, rather than the WorkCast event page.
Calendar Information
This is to be used if you were sending your own promotional emails outside of the WorkCast platform. It is possible to add the Platform Generated Calendar File URL to your email campaigns this will then show 'Add to Calendar' within the Platform generated email communication.
Show Legacy Details
This would only be used if you wish the date and time to display differently from the standard format.
Enter your date/time of your event here and how you want it displayed. This means you are able to add multiple timezones to it and it will display in the body of your email – for example, Monday, 3rd December 2020 at 9am GMT/10am CET.

The other options in the show legacy details tab are not applicable for clients unless stated by a WorkCast colleague in your template creation process.

Now onto the Details/Confirmation Email