This is an article that will guide you through the main features of the WorkCast studio when your event is configured to Interactive
Interactive Presenter Studio
The new Interactive Presenter Studio combines webcams, telephone dial-in, and screenshare into one easy-to-use Studio.
Recommend use of Google Chrome, Firefox, Safari, Opera, or the most up to date version of Edge, a strong internet connection, and turning off any VPN for you and your presenters.

Launching the My Connections Pod in the Studio

The My Connections pod is where you can connect your webcam, hear and see other presenters, and share your screen to screenshare any presentation slides.

On entering the Studio ensure the My Connections pod is visible and in view, if you can not see it on the screen click the large arrow to the right of the studio which will show all of the pods available, then click the My Connections pod and this will bring it in view. You will then need to ensure you click the Expand Pod icon to connect and see other presenters.

Presenters who will be dialing in via a phone bridge can contribute audio-only. Telephone dial-in details are provided on the top right-hand side of the Studio. When you open the My Connections pod it will automatically try and connect your webcam and microphone.

Understanding User Controls - Summary

Mute/Unmute Button - Click to mute or unmute your audio.
Disconnect/Connect Button - When you open My Connections it will automatically connect you to the call. You can click the red button (2) to leave the call at any point. Note: If you do this during a live broadcast you will not be seen/heard by the audience, but you can rejoin.
Show/Hide Webcam - If you just wish to connect your microphone you can hide your webcam if required.
Share Your Screen - Click this to share your screen, an application window, or a particular browser tab. When you share your screen this will appear large to the audience with anyone connected via webcam appearing as small thumbnails. To end sharing your screen make sure you re-click the screenshare button and you see your screenshare disappear in your own view in the My Connections pod.
Toggle Local Presenter View - This will be the view it is set to as standard. If you've clicked to pin it on a certain person, you can click this again to see all your presenters at once. Note: Whatever you change your view to within the studio, will not change it for the audience unless you have Follow me selected, which is explained further down.
Additional Settings - Opens up a menu with additional configurations and useful links for presenters.
Your Profile - Opens your profile where you can change your user display name which your audience will see as you speak and in your thumbnail.
Manage Video Quality - If you know you have a poor internet connection you can lower your webcam quality to help with ensuring your connection remains stable throughout the presentation.
View Full Screen - This makes the My Connections pod full screen in your device window.
Settings - Launches your own setting configurations.
Speaker Stats - Shows other speakers online in the session and time connected.
To share your screen, click the Share Your Screen TV icon. You will then see a menu to choose what you are wishing to share. You can share your entire screen, an application window, or a browser tab. Shortcuts - Keyboard shortcuts to quickly access items in the My Connections pod.
Interactive functions
Change your display name
Hover your mouse cursor over the image of yourself. You should see Me in white writing.

Click this to edit this.

Type in how you wish your name to appear.

This can be changed at any time.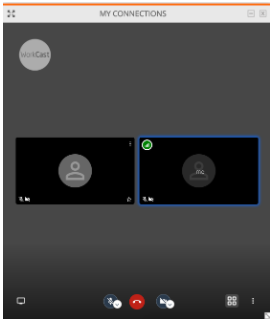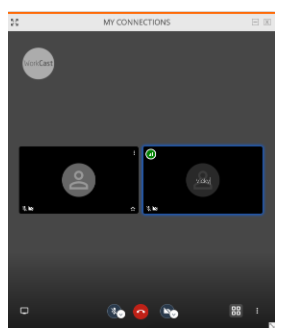 An alternative way to change your display name is to go to the three vertical dots (More Options).

Click into Settings.

Go to the Profile tab.

You can edit your display name here and click OK to save changes.
Change your display gravatar
If no camera image being shown then your display image will automatically show at the initials of the display name you have entered. For example, may automatically show as P (presenter). You can create a gravatar on a third party site to change this image to one of your choices instead. One third party site is here.
Once your gravatar is created, go to the three vertical dots (More Options).

Click into Settings.

Go to the Profile tab.

Enter the email address you used for your gravatar and click OK to save changes.

You will now see your image change on the My Connections view. This will now show whenever your camera is not being shared.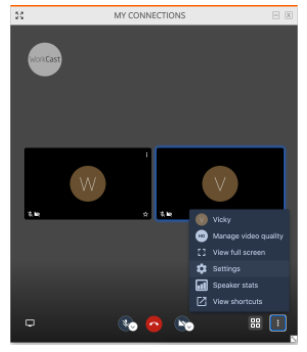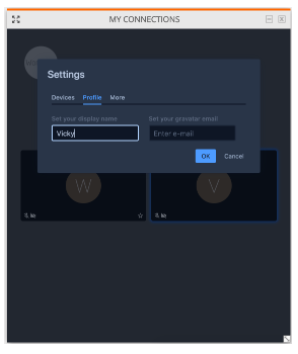 To share your screen, click the Share Your Screen TV icon.

You will then see a menu to choose what you are wishing to share. You can share your entire screen, an application window, or a browser tab

If you do not see this, this may need to be allowed in your permissions.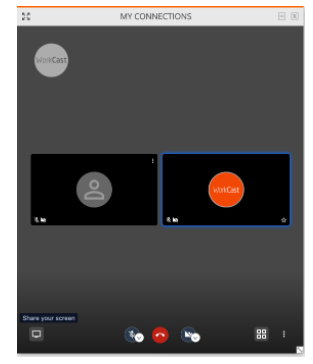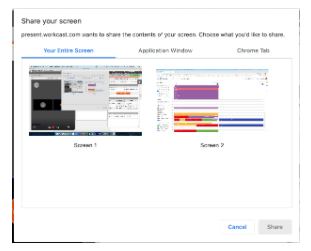 On the latest versions of Google Chrome and Microsoft Edge, you may also see the option to Share Audio when you screen share. Tick this box to share audio.
Please note the following:
The audio from your computer will be shared in the My Connections pod and therefore with the audience if broadcasting.

Muting yourself in the My Connections pod will also mute the media audio for the audience. We would recommend using a headset that has a physical mute button to mute your microphone to reduce any background noise.

All other presenters will have to ensure they are also muted during this time to avoid any background noise.

The quality of any video is dependant on the internet connection. For longer videos or higher resolution videos, we would recommend using other options including our Cloud-Based Slides only option instead to maintain the quality and integrity of the event (please note that this would not allow for webcam and would be audio-only).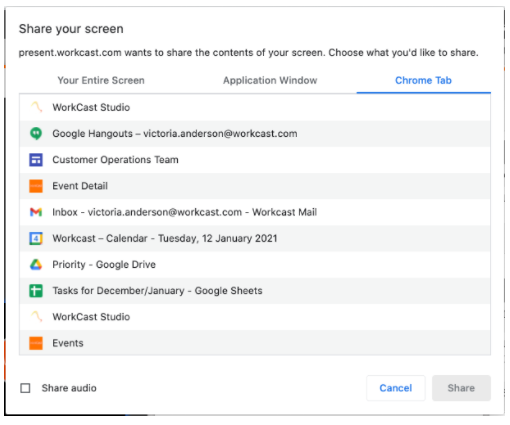 There is also a picture in picture mode, see the below image. To activate the speaker who is in share mode will need to click on the webcam icon at the bottom on the My Connections pod


Please take into consideration the content on your slides or screen that you would wish to share if using the picture in picture mode. The quality of the presenter's webcam video is dependant on their internet connection.
To stop screen sharing you can click back onto the TV icon or click Stop Sharing on the small pop up on your screen.

The first person connected in My Connections will automatically receive moderator rights and will show a small star next to their image.
By clicking on the three vertical dots on a presenter to show the Presenter Options, a moderator can:
Mute a presenter.

Mute everyone else but the presenter clicked on.

Grant moderator rights to another presenter (they will also keep moderator rights).

Kick out the presenter from being connected in the My Connections pod.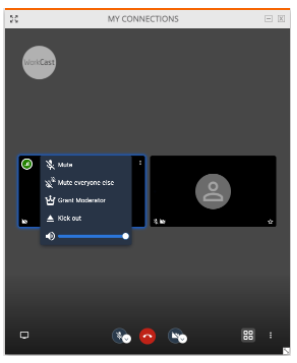 When a moderator selects to mute a presenter they will see a pop-up box to confirm this before they are muted.
The presenter will also receive a pop up showing that they have been muted.
The presenter will have to unmute themselves when they go to speak.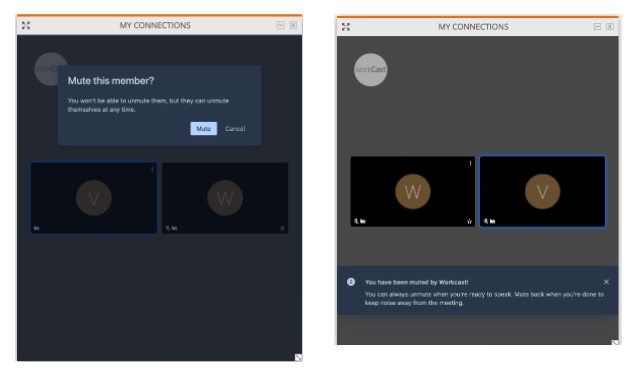 Custom Settings
Ensure that you are a moderator (you will have a star next to your icon/image).

Go to More Options (three vertical dots icon) and go to Settings.

Go to the More tab and tick the box next to Everyone follows me.

When this setting is on whatever you see in the My Connections pod will the view that everyone else can see and that will broadcast to the audience.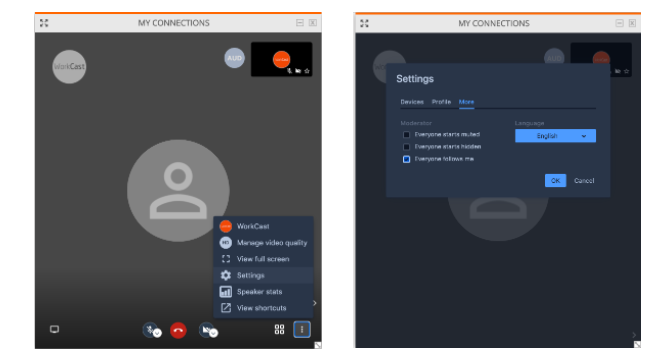 Using Follow Me
The view for all other presenters and for the audience can be altered and controlled by using Follow Me, including:
Change the view between toggle and tile view

Click a presenter icon to change to a larger image view of that presenter.

Click the small white arrow on the right-hand side to hide or show the other presenters on the side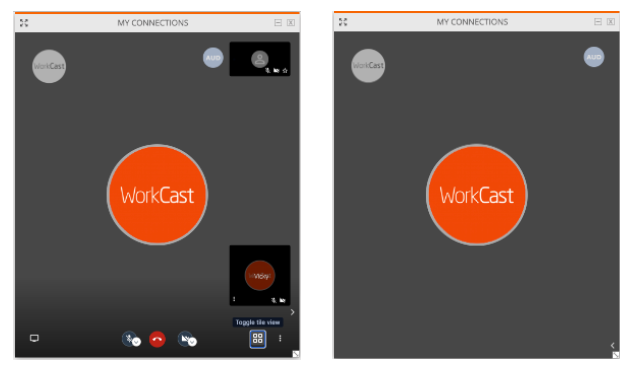 F
or a smoother transition between presenter images and views, keyboard shortcuts can be used.
To view these click the three vertical dots for More options and View shortcuts.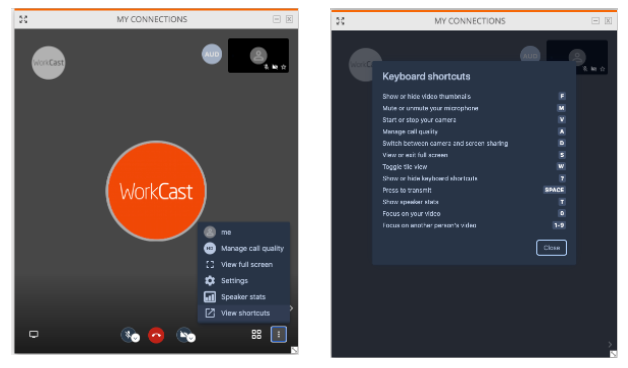 How to Start/Stop the Broadcast
Any Host/Producer users actively in the Studio will see a green Broadcast Button situated in the top right of the studio. When the event start time reaches 1 minute prior to broadcast a popup reminder with a countdown will appear for all users as a reminder to get ready to broadcast.
Once you are happy to broadcast live to the audience, click Broadcast, and then a voice will inform all users in the presenter studio "live streaming is on". At this point, the content and audio from presenters will be broadcast to the audience.


When you wish to stop broadcasting live to the audience please ensure you press Stop Broadcast in the top right of the Studio, rather than just disconnecting your own status in the My Connections pod.


When Broadcasting What Does the Audience See?

IMPORTANT: If a user starts sharing their screen, the screenshare will take the main view. When a user stops sharing their screen it will automatically go back to the tiles of the speaker as the main view.

Follow Me View

The view that the audience sees is based on who is speaking. Individuals will change from being full screen when speaking, to appearing as a thumbnail view down the right-hand side when they are not speaking.
Please click back into the Running your event section to view other pages that include the other pods available within the WorkCast Studio. This includes:
Presenter Only Chat
Event Polls
Attendee Questions/Attendee Chat
Event Interactions
If your event is configured to the below types also click back to find guides:
Slides-Only Studio
Simulive Studio
Live Stream Studio (please note to run this style of event you required a licence add on to the Producer+ licence)