This article will go through how you can make changes to your Registration Confirmation email per event, and what statistics you can see.
Webinar Details/Confirmation Email

This information will be set on your template, however, if required can be changed on a per-event basis.
If you wanted to change the email template, you are able to do this by going to the drop-down menu next to the word Template and selecting the option you wish to use. Please see the screenshot above to further explain this.
The sender name can be whatever you like, but as standard, it will be set to your company name.
The sender email again can be what you like, as standard in the build of your template we will put your company name @mail.workcastevents.com – unless told otherwise. For example workcast@mail.workcastevents.com - We recommend sticking to this as it prevents emails going into spam/junk folders.
Subject - we will put a standard subject line for your email that can be applied for all events, however, you do have the option to change this on a per-event basis to suit your event.
Test after you have finished editing your information and pressed the green save bar that will appear at the top of the page, you are able to send yourself a test email by clicking create, a pop up will appear, and then enter your email address in. Once you have entered a valid email address, then proceed button will turn orange for you to press.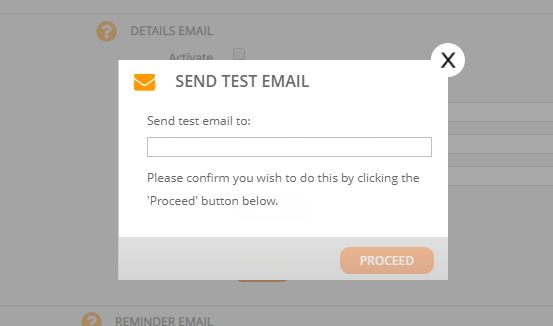 The last dispatch will advise when the last email was dispatched when you do activate your emails to start dispatching.
Email statistics, you can press this at any time to see how many emails have been sent, against how many registrations you have, this will also advise if any emails failed and give you the reasons why. (This will only populate once you have activated the emails and people register for the event.)
Want to change your reminder emails, click here to find out how!