WorkCast has a range of Webinar Library templates which allow users to group multiple sessions within a single lobby.
Key Functions within a Webinar Library Template:
Sessions can be grouped within filters (e.g. Live, Upcoming or On-Demand). Alternatively they can all be kept within the same filter, there is no limit to how many sessions or filters you want.
Search Functionality - To find a specific webinar you wish to view
Category Filter - Show and hide specific categories
Each session can include a Title, Short Description and an optional Thumbnail Image.
Each session themselves can then link to the specific Registration URL or alternatively can link to a External Website if necessary.


Reel Webinar Library (Light Theme)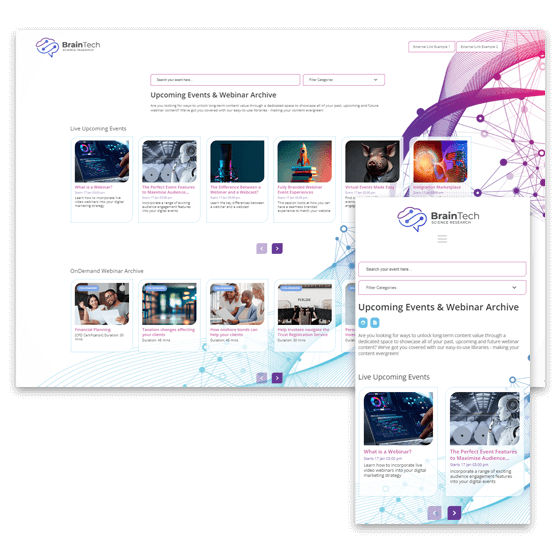 Reel Webinar Library (Dark Theme)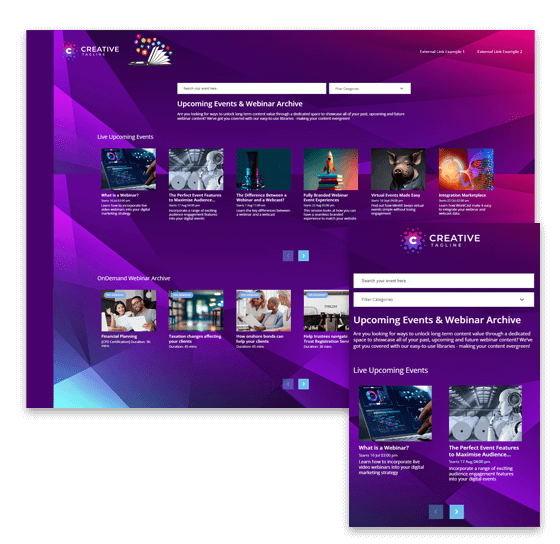 How can users access the Webinar Library
Direct access to the channel lobby URL, then individual sessions prompt you to register to gain access to each event session.
How can a Webinar Library be branded?
Background- This can be a Background Image, a Solid Colour or a Gradient.
Thumbnails- We can take your brand guidelines and use the colour to brand either the Buttons, or Colour Overlay depending on your template of choice.
Fonts- We can use any Google or WebSafe fonts. If your font is unavailable, we will find the closest alternative.
Logos- We can load your logo onto our template and if you have an additional Secondary/Sponsor Logo too.
Not sure on the design?- We can base the design of your current Website/Brand Guidelines or Master Template.
Useful Information:
Branded templates- If your plan includes or if you have purchased a branded template, WorkCast will brand a template of your choice and ensure it reflects your brand. To view more around branded templates click here
Supplying your assets- Learn about what you need to get started on having your very own branded master template here
Popular plugins- Learn about some of the most popular plugins which can be integrated with your template here