Learn about Branded Master Event Templates and how you can use them for your event.
The WorkCast Platform is a unique webinar and webcasting platform that allows users to have a fully styled and branded event workflows that can be used for many events.
Every licensed customer of WorkCast has the option to purchase Branded Master Event Templates and have them available in their account.
Most users choose to have Branded Templates created as they want their webinar or event workflows to look like their website or to be tightly integrated with an existing workflow created on their CMS or Marketing Automation platform.
A Standard Master Event Template consists of 7 individual components:
A registration form page
A registration thanks page
A confirmation email
Reminder email(s) (using the same email template as the confirmation email)
A live/on-demand auditorium
Post-event email
An on-demand auditorium
The concept of the Branded Master Event Template is two-fold:
That the design, content, and styling of each of these components can be altered to contain additional content or be styled to reflect your website
That certain additional components can also be added to or withdrawn depending upon the workflow that is being created. This is especially relevant in the following scenarios :

Multi-session event types such as symposiums, virtual events, job and recruitment fairs
Where webinars are integrated into another workflow from your organization such as webinar channel, learning/CPD portal, or video channel
Where additional automated communications are required
Once created, Branded Master Event Templates are then available to be used for as many events as you require.
Designing your branded template:
Your template is branded based on either:
A website of your choice, or
Specific branding. For example logos/background images/colour schemes or palettes/branding guidelines
You can choose one of the available standard template layouts to be branded, as this means you can choose the one most suited to your webinar aims, or business needs.
We would then apply the above to the template.
The functionality of the template would be the same as the standard template. Such as layout, and how the overall template works. This means that it is fully tested across various browsers and devices. And it also means you can use the full functionality within that specific template.
Please click here for more information on how your templates are branded.
Supplying your brand assets
If your license contains a Branded Template experience you start by choosing one of the standard experiences listed here, you can then provide your brand assets to begin the creation of your branded Master Template.
To take a look at our design examples click here. These are client examples we have created based on their brand.
What can be branded?
General text heading styles and font colors can be changed within your template.
Fonts can be set to any standard web-safe font or Google font if required.
Media windows within your auditorium display a 16x9 splash image if media is not yet streaming or is set to on-demand. This acts as a holding image and can include photos, graphics, and text. You can change this image per event.
Emails display your company logo and will pull through a sponsor logo if you have uploaded one. The banner image and background colors can be set within the template.
Providing images: the bigger the better
For the best results, please provide your company logo as a transparent PNG and at least 500px wide.
For background images please send the biggest version of the image you have available as either a transparent PNG or JPG. Our designers can optimize images appropriately. We recommend that images intended to be used as backgrounds be at least 2100px wide and 1000px high.
Email banner images will display at 600px wide.
The available templates in your account can be seen under the Create Event tab when you log in.
NOTE: Should you require a fully custom-designed template (as in new layout, structure, and branding), this would be chargeable separately and would be passed through to our Product Development team. Please speak to your salesperson or account manager if this is something you would like to discuss.
You can integrate your template with some of the most popular plugins.
WorkCast currently integrates with the following widgets:
NOTE: If you have any other platforms you wish to integrate with just ask.
Certifications & certificates
Certification events can be set up within the WorkCast Platform; using polls, you can set up a set of multiple-choice questions, percentage pass mark, and also a customized printable online-based certificate.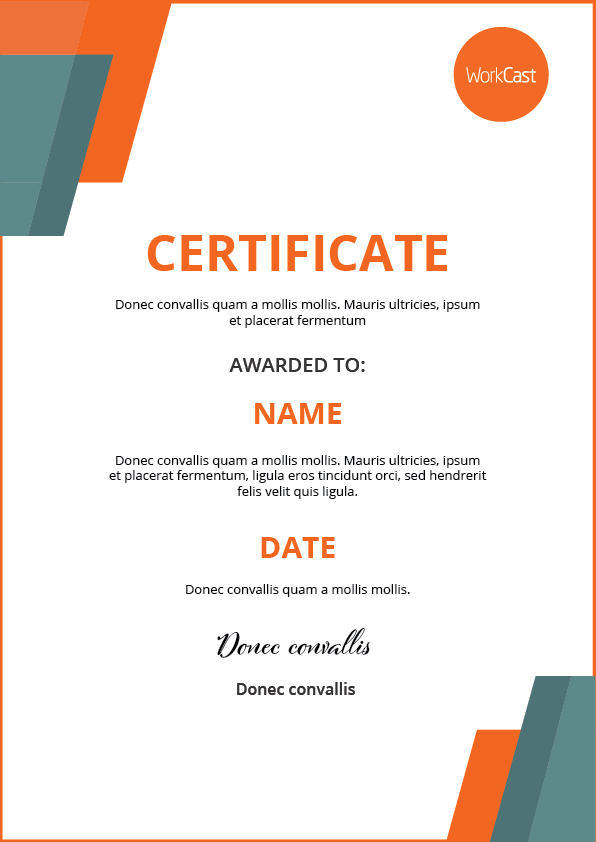 Click here to see an example of how this process works; clicking Show My Scores will display your personal pass rate and display a link to view your online certificate after answering the three questions correctly included in the example video.