Everything you need to know about remotely supported Live Stream Events
Remotely Supported Live Stream Events process
The WorkCast Platform is designed to enable you to run a variety of event types including onsite Live Stream events. These can be delivered by our Premium Support Custom Producers or a professional audio-visual team of your choice.
If you choose to partner with a third-party audio/visual team there are a few considerations that will ensure the quality of your event is as high as it can be. This article looks at this process.
NOTE: it is important you become familiar with the following processes and items. In doing so, you will become aware of what both yourself and WorkCast are individually responsible for.
On-Site requirements for the AV Team
Professional Camera equipment to be used, such as Sony X70 series and higher, enabling full HD output with correct line-level audio.
If using a Vision mixer and multiple cameras, standard cut and dissolve transitions, plus the ability to provide picture-in-picture, so a slide can be displayed alongside a camera shot.
Audio to be mixed professionally, either a dedicated mix for the LiveStream or if the event is a conference with an audio feed provided to the LiveStream, this feed must have a dedicated master level, such as an Aux or Matrix output of a sound mixing desk.
Cameras should have correct lighting for appropriate exposure to the content, such as presenters' faces.
The streaming encoder type must be notified to WorkCast ahead of the event. We recommend using a wired internet connection to match our network requirements. If a wired network is not available, WorkCast must be made aware that the event is being streamed on Wifi/4G and the potential risk of using this connection.
Responsible: Customer/AV Team
See the image below for a basic diagram of how a LiveStream event operates: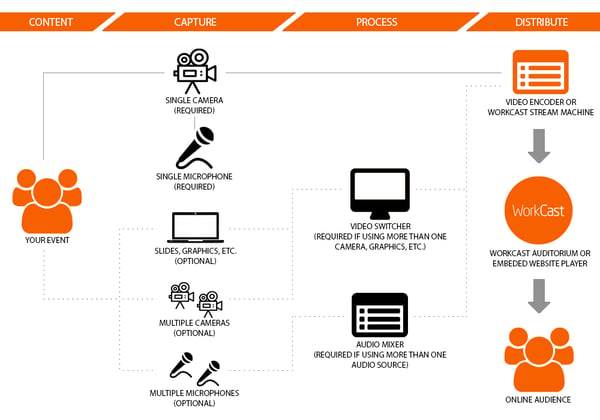 Prior to your event
A WorkCast Custom Events Producer is assigned to your managed event and will arrange a call to discuss the workflow and requirements for on the day and for the build-up to it. To ensure a full understanding a contact from the 3rd party AV team will need to be involved in this call. Responsible: Customer/WorkCast
WorkCast will provide you and the audio-visual company with the correct streaming information to use in the onsite LiveStream encoder.
Content Editor Setup: Once your event booking is confirmed you will be given Content Editor access. This is an easy method of inputting all event information such as overview text, presenter information, sponsor logos, registration form fields, documents, and links to your event pages. You can preview your registration and event auditorium pages as you go meaning you can ensure everything is correct before your event goes live. For more information on content editor set up click here.
Submitting Content Editor: Submit your pages to be approved by WorkCast. After approval, we will provide your final event registration and auditorium URLs within one working day. Be sure to check over your pages and let us know if you wish to make any further changes.
Event Links: You are then free to market and point people towards your registration/event URLs. You will also have access to reporting within the WorkCast Platform to monitor registrations and obtain event statistics.

Please note that you can choose to use your own website pages or integrate with some other platforms or use WorkCast's embed option - please speak with your Custom Events Producer and they can advise on the different options.
Event Coordinator assigned
A WorkCast Event Coordinator is assigned to your event after your event date is confirmed. This takes place typically 5 to 7 days prior to your live event date.
You will receive a confirmation email from your Event Coordinator providing an initial introduction and confirming your event date. You can then communicate directly with your assigned WorkCast Event Coordinator for your upcoming event.
Log in details for the WorkCast Studio will be provided by your WorkCast Event Coordinator which can then be passed onto your event speakers and other representatives.

Please note: this may be a Custom Events Producer that you were introduced to at the beginning of the project or an Event Coordinator.
A stream test for the event will need to take place a minimum of 4 days prior to the event start date and time. This will need to be booked in with WorkCast so an Event Coordinator or Custom Events Producer can attend at a preset time. (Booked in during planning call). We would allow around 30 mins for a stream test and this is also the time to allow for familiarisation of the WorkCast Studio prior to the event date. Responsible: Customer/WorkCast
Polls, pre-prepared questions, and attachments
The final version of any required polls, pre-prepared questions, and attachments to be sent to WorkCast.
These can be loaded into the Platform by yourself or WorkCast ready for the event.

Responsible: Customer/WorkCast
Timescales: At least two working days prior to live event or recording session.
If reusing the same live streaming profile for multiple event and looking to use polls on multiple events then reach out to your custom events producer for guidance.
Reminder emails dispatched to registrants
Registrants will be sent event reminders.

Responsible: WorkCast
Timescales: 24 hours and 1 hour reminders unless specified otherwise by the customer
On the day of the Live Stream - 30 minutes pre-event start
The WorkCast Event Coordinator will lock the event auditorium audience view so that the audio-visual company can start streaming which will confirm the signal is working as expected.
WorkCast Event Coordinator, you, and the audio-visual company log into WorkCast Studio with the below pods open:
Presenter Only Chat - this is the main communication channel between WorkCast, you, and the AV company
Audience questions and or chat
Polls module if required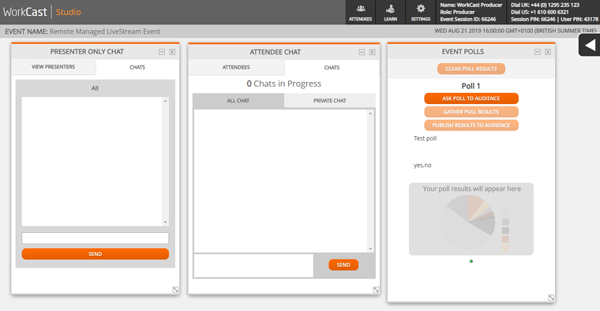 Lipsync check is carried out by the onsite AV team with a close-up shot of the presenter/crew. Or clap sync is used instead. Sync is confirmed by the WorkCast event coordinator and Audio-Visual company
Audio-Visual company will confirm they are locally recording the stream at the event location as a backup
If no other checks are required, the WorkCast Event Coordinator will unlock the event auditorium, no later than 5 minutes prior to an event starting, ready for your online audience to join.
Event Live Time
If the event is likely to start late, you and the audio-visual company will need to advise WorkCast via Presenter Only Chat module, including the likely start time. WorkCast will push out a message to the audience auditorium so the online attendees are aware of the start time.
During the event, WorkCast will communicate in the WorkCast Studio via the Presenter Only Chat that the stream is running as expected.
When the event finishes, the audio-visual company should stream a holding slide with no audio for 1 minute. WorkCast will then confirm via the Presenter Only Chat that the stream can be stopped. Responsible: Customer/AV Team
Post-event - On-Demand
Event pages can be updated to include the recorded version of the webinar if required.
WorkCast will produce the on-demand version for you, typically using the stream recording. However, for back up purposes can the AV team send the locally recorded version to events@workcast.com. You and the AV team may decide to edit the on day recording so this can be used for the On-Demand version. If this is the case can you or the Audio-Visual company send the edited recording to events@workcast.com.
Your event URLs will not change.

Responsible: WorkCast
Timescales: Within one working day of the event
Post-event emails (if required)
Post-event emails can be dispatched to both attended and non-attended registrants of your event.

Responsible: WorkCast
Timescales: Dispatch upon receipt of approval from the Customer