Learn about standard event templates and how you can use them for your event.
The WorkCast Platform is a unique webinar and webcasting platform that allows users to have fully styled and branded event workflows that can be used for many events.
Every WorkCast customer has 10 Standard Unbranded Master Event Templates available in their account.
As part of a WorkCast plan, you can choose one of the Master Templates examples to brand to your organisation requirements. (Click here for further information on designing your Branded Master Template)
---
A Standard Master Event Template consists of 7 individual components:
A registration form
A registration thanks page
A confirmation email
Reminder email(s)
A live auditorium
Post-event email
An On-Demand auditorium
1. Registration Form
The standard registration form is configured with form fields that can be set within your template, or amended on an event by event basis. You could also have both options.
Form fields can be added or removed as you need to. The minimum requirement is an email address, all other form fields are optional and interchangeable depending on the data you wish to collect.
You can also add additional descriptions relating to your event. The form will display the presenters, all fields, and your overview text/description.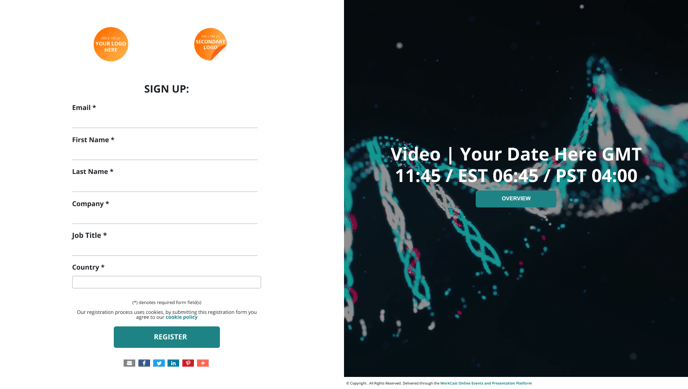 2. Thanks Page
The standard thanks page is automatically created and populated with the title, date, and time of your event. The page displays your logo and has 3 options for registrants:
Join the Event
View Technical FAQs related to attending webinars
Add to Calendar (with multiple calendar options)
3. Confirmation Email
A confirmation email is automatically triggered to your registrants and will contain details of the event in an email.
The email has 3 calls to action in it which are:
Add to Calendar (with multiple calendar options)
Join the Event
View Technical FAQs related to attending webinars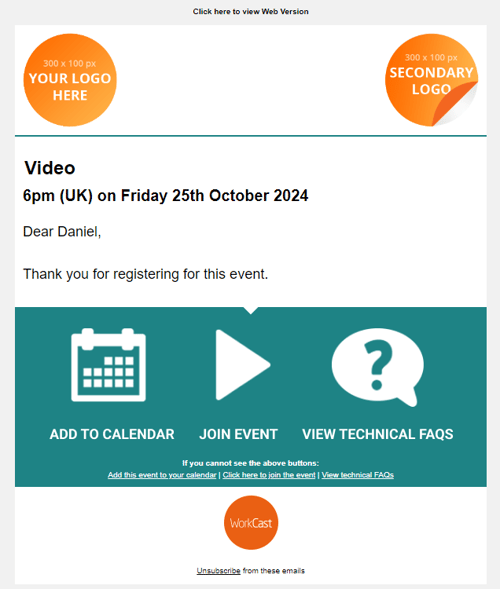 4. Reminder Email(s)
The Standard Master Event Template configures 2 reminder emails to be sent to try to encourage attendance at the webinar. One is dispatched 24 hours before the event's scheduled start time, and the other is dispatched 1 hour prior to the scheduled start time.. The details, logo, and titles are all created automatically so there is no requirement for the organizer of the event to do anything.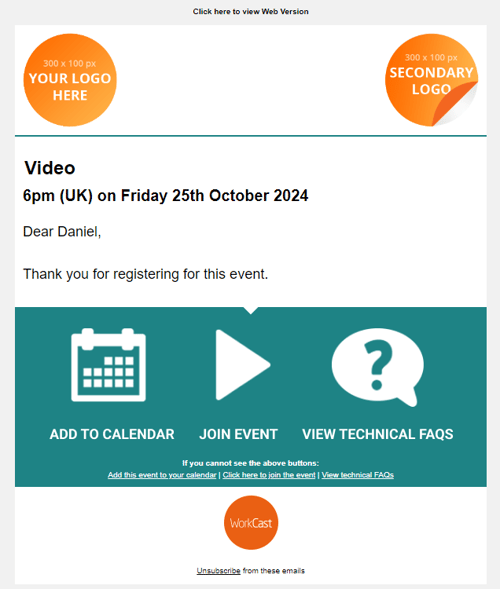 5. Live Auditorium
The live auditorium is the page that viewers of the webinar access to watch the event. This auditorium is configured to work across various browsers and device types so your viewers do not need to download any plugins to watch.
The Standard Master Event Template is configured to include:
Your logo
The title
Description of your event
Presenter details – including images and biographies if added
Any documents or links you have added
Has a text-based Q&A functionality enabled
Social Media sharing options to allow viewers to share the event details (they are optional and can be removed from the template should you need them to).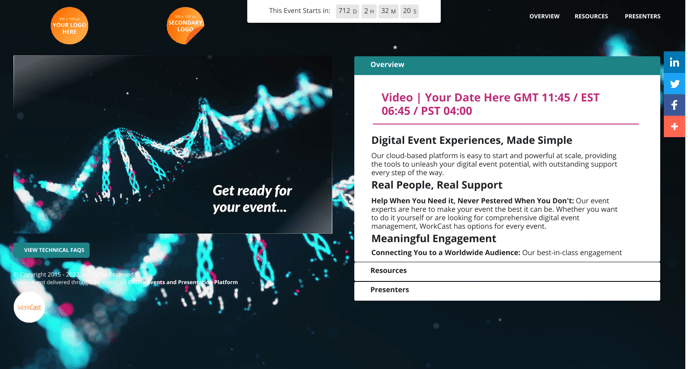 6. Post Event Email(s)
After the event has finished, a post-event email is automatically created and sent to all registered contacts with a link to the on-demand webinar. This can be scheduled at a time which is best for you. The email will not dispatch however until the on-demand is created and available.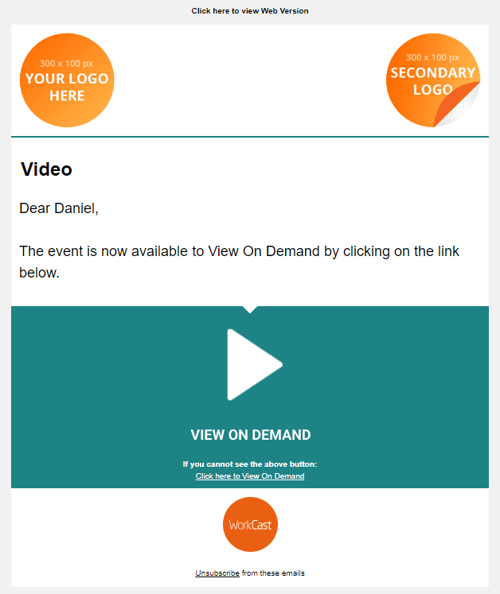 7. On-Demand Auditorium
Unlike most platforms, the WorkCast Platform automatically publishes a recording of the webinar on the same page as your live event. Once your live event has taken place and the event duration has passed, your event with have a Create On Demand button associated with it. Once published, your on-demand appears in the same page URL as your live event.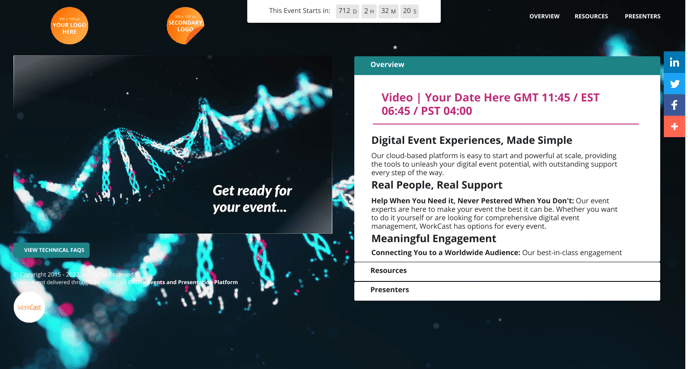 To view the full Webinar Template options that are automatically injected into your account click here.