How do I add an existing presenter to my event session?
If you have created an event before, you may have presenter details stored in your account. Simply navigate to the event session that you'd like to display the presenters on, and click the Presenters Tab, and select Add Presenter.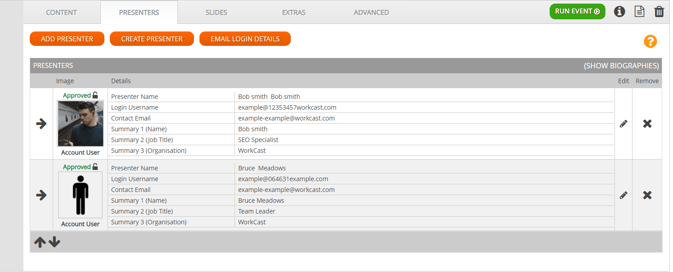 After clicking Add Presenter, you will be able to see a list of all the presenters stored in your account. Simply click the check box next to the presenter(s) name, and then click Add Presenter again.
How do I add a new presenter to my Event Session?
If you want to add a new presenter to your event, click Create Presenter. Please enter a username that satisfies the requirements mentioned above, and click Check to ensure this username is suitable. Once you have a valid username, please complete the rest of the Presenter Details in the form. Please note that First/Last Name and Email Address are mandatory. You can also add an image if you'd like. To add a biography for this particular presenter, click into the Biography field to add your content, and use the toolbar at the top to add any formatting.
Please note: First/Last Name and Email Address are mandatory
How do I let my presenters know they have been added?
After you have finished adding and editing your presenters, you can email your presenters their login details by clicking the Email Login Details button. Note that if you see a message which says Draft User you will need to go back and publish any changes before you can use this functionality. Once published, simply select the checkbox next to each presenter, and click send. Your presenters will receive an email that contains a username and a temporary password to log in.
Please note: The presenter password is generated automatically, and we do not keep a record of these.
How do I edit a presenter?
You can edit any presenters you have added by clicking the Pencil icon and modifying any details. To remove a presenter, simply click the Remove icon.