This article will go through how a self service client can create a Multi registration event with a step by step guide.
Multi Registration templates are an add on with your plan and usually incurs a template build charge for one to be created and added into your account. If you want to know more on Multi registration events, and find out how you can have a Multi registration template in your account, please reach out to your Account Manager and they will advise you further.
Creating a Multi registration event includes a lot of the same steps as creating a single event within the WorkCast platform.
You first need to create your events, as normal, like you would your single events but choosing your Multi Registration Template in the create events tab.
Creating a new Live, or a Simulive event


Click on the Create a New Event or the Create Events button, then click Live & Simulive Event preview the template you wish to use for your event by clicking on one of the experience images to preview the template. As you require a Multi registration event, the template will be named accordingly. For example "Multi reg 2021" or something similar.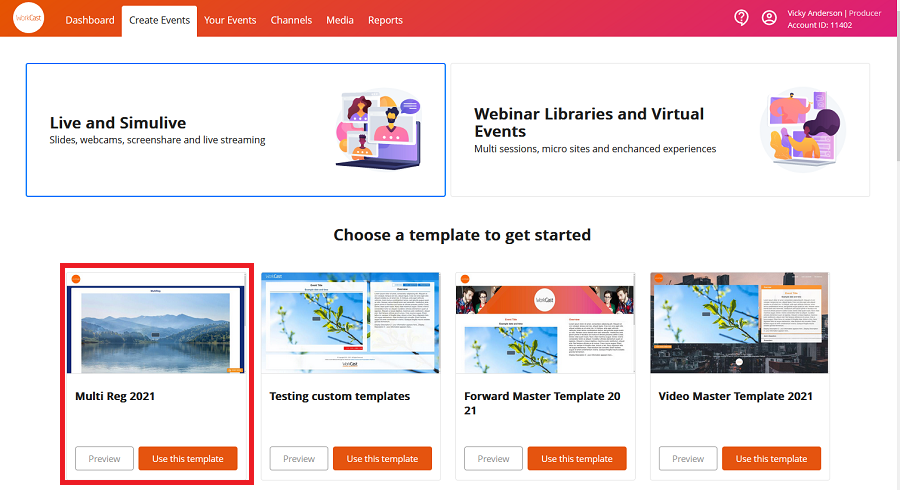 When you are ready click Use Template & Create Event which will give you a pop-up to create your event. You will need to enter (Example below the bullet points):
Event Title
Description (Within the description, please add the date/time on how you wish it to be displayed for your first multi-event session)
Scheduled Start Date
Scheduled Start Time
Duration
Timezone
Presentation Type (Note: some plans do not have access to select the Simu-live presentation type)
Example

Your event is now created in its basic form. You would be able to run an event now with the basic settings.
Event Summary Section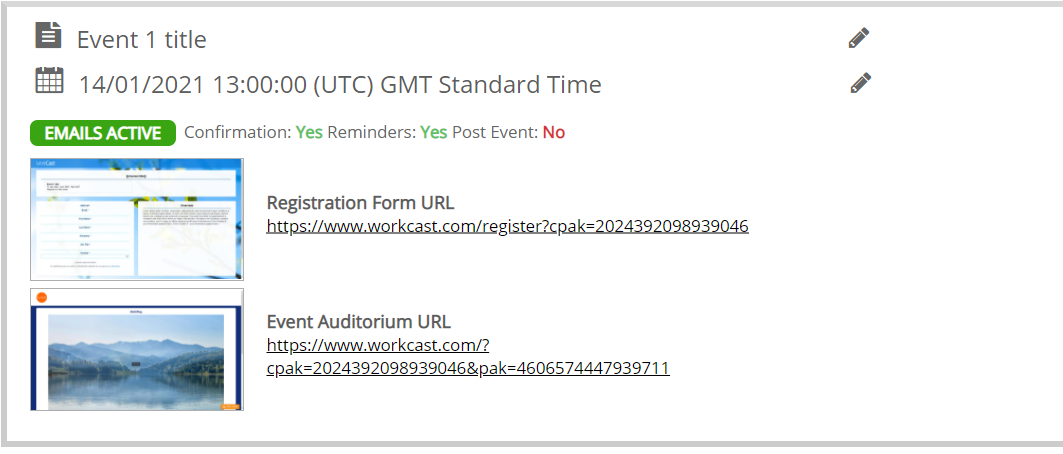 Title - This is the title of the event as it will show in your account. Clicking on the title will allow you to change it. Once changed, click off the title and the pencil will change to a green tick to confirm the change in title has saved.
Date/Time - This is the date and time of the event. All email communications and reporting is configured using this date/time. It can be edited by clicking on it in this section.
Emails - See a live status of your emails to be dispatched from the WorkCast Platform. As standard, the Confirmation and Reminder emails will be automatically activated when an event is created.
Auditorium URL - This is where your attendees view the live event. As standard, no attendees will be given access without first registering, which they do through the Form URL.
Registration Form URL - This form URL will not be used, as you are creating a Multi Registration, once all events are created, WorkCast creates the overall Multi-event, and a new Registration Form URL will be created to use.
Building your event
Building your first multi-event session is the same as building a single event, you add in your content the same way, following our guides.

You then repeat this process, for how many events you are having in your Multi registration event. For example, if you were having 3 events within this Multi event. You would complete this 3 times, of course having the title/date/time changing each time when creating, and again following our guides to then complete the 3 builds. Note: You must ensure registration form fields are added in the same way for all of your Multi events to ensure reporting will be correct throughout.
Once all 3 are built, you can search based on the date range to view them all via the Events tab.

Putting all events together
Now it comes to putting these events together, to make your actual Multi registration form URL that shows all events included in your Multi Registration series.

Currently, this is not something you are able to do yourself, so you would need to email support@workcast.com and provide them the following information:

- Date/time of all events to be included within the multi-event
- An overall title for the multi-event, such as a series title
- Be clear in your email that these are to be joined together to make the Multi registration form URL
The WorkCast Support team will then respond to confirm receipt, and action this request within 1 working day.

All events are in place
Once WorkCast support has created the actual overall Multi Registration event for you, and attached all multi-events to the overall event, we will send you the correct Registration Form URL for you to view and promote.

We will also advise on how you can find this event via the events tab. As a rule, we will create the event with the same date as your first event, but put the time as midnight, so it displays in the events tab as: 00:00:00 (UTC)
For you to search, it will look something like the below: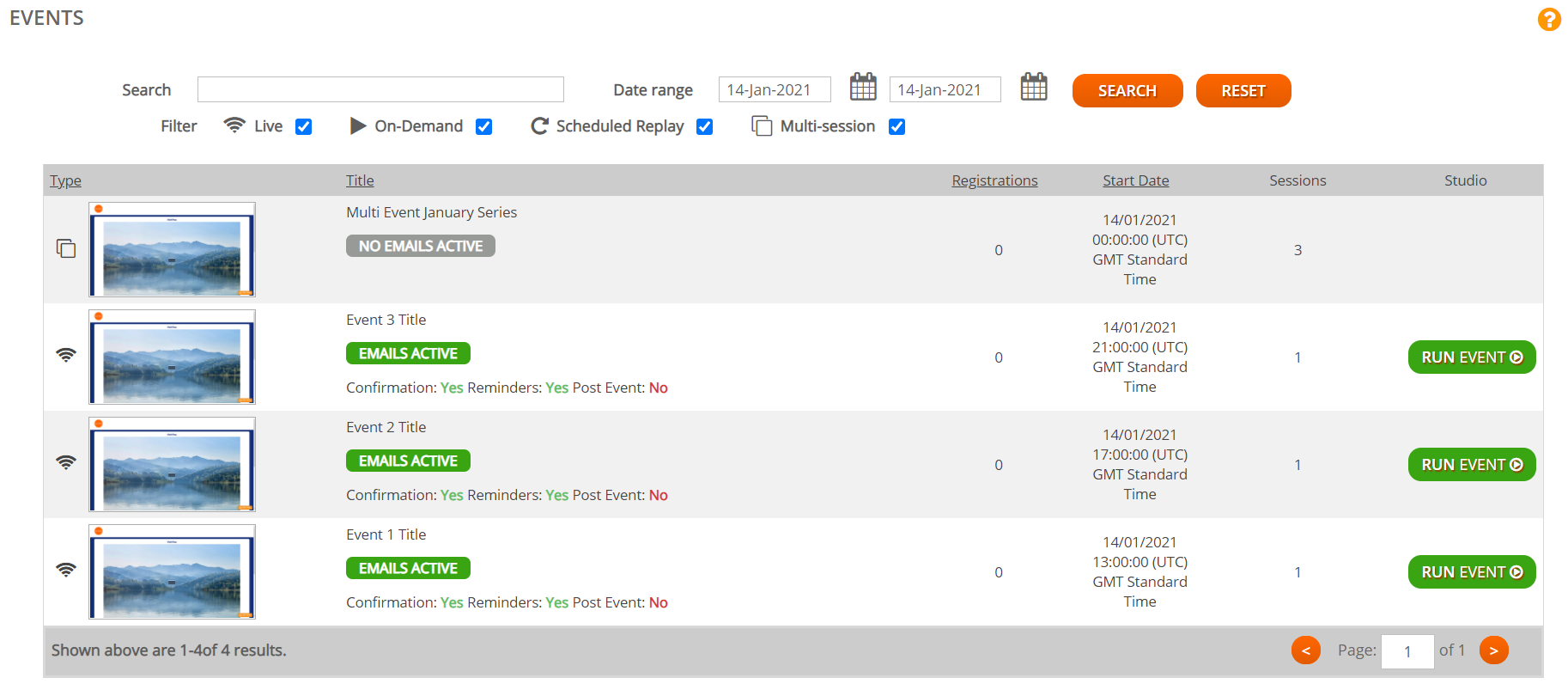 As you can see, there is an extra event now appearing, will all Multi events within it, and no emails activated for that one as no emails will be dispatched from the overall Multi event.
To find the Multi Registration Form URL yourself, you can click into that event set to 00:00:00, with the overall series title.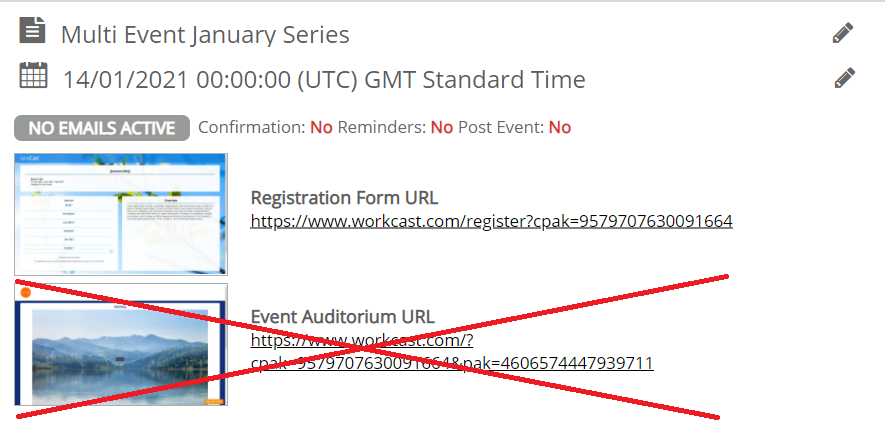 The Registration Form URL will be the URL you promote. Please disregard the Multi-Event URL, as that will not be used at all throughout, as you have your individual Event Auditorium URL's.
Example Live page
Note: This will depend on your own branding, and on the Master Template Layout you choose when speaking with our Onboarding team within the Template creation process.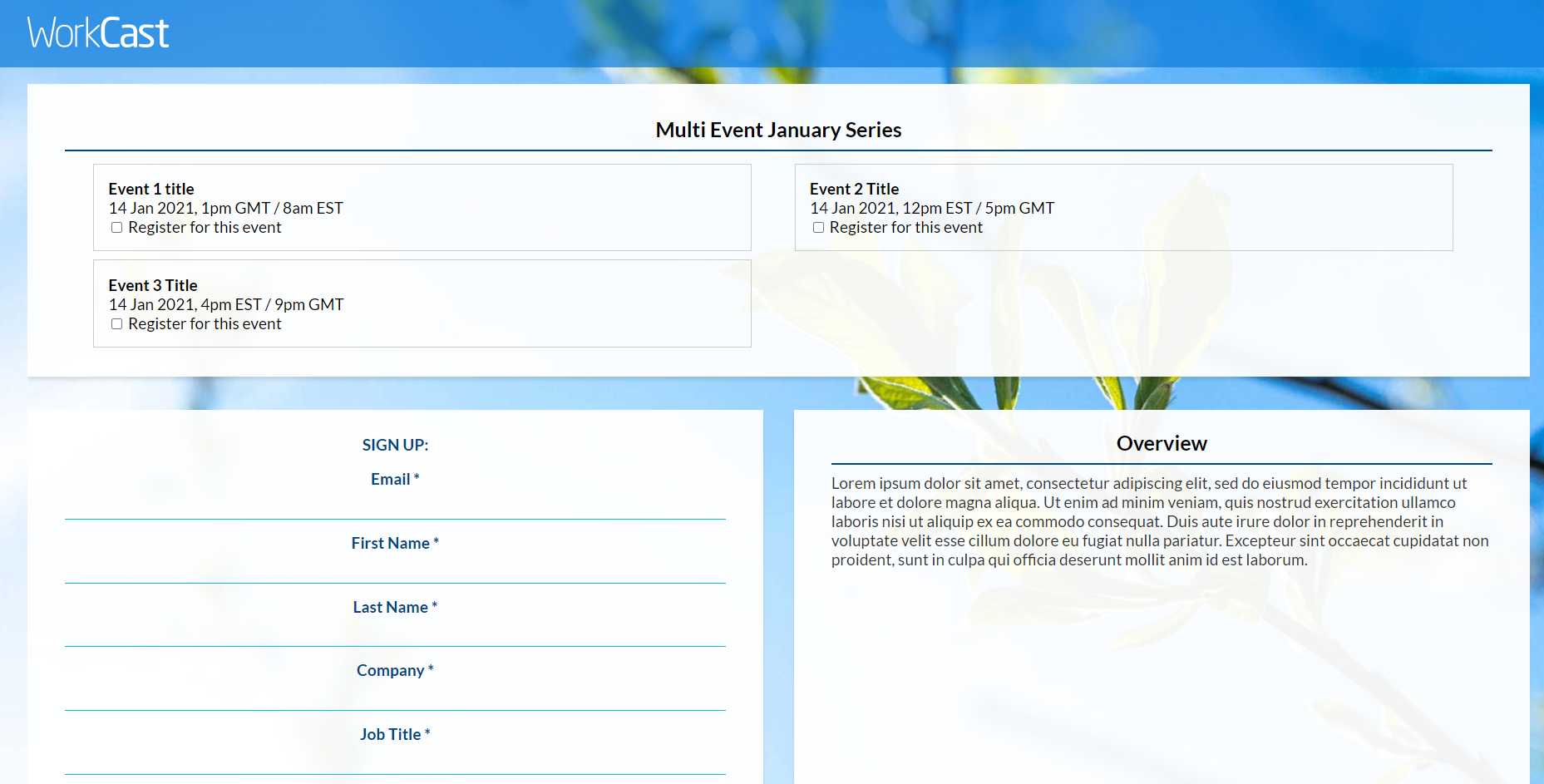 Notes


We would strongly advise to only email the WorkCast Support team once you have finished building all events.
Currently, once WorkCast has put all events together to create the Multi Registration form URL, it then will mean each time you make a change to the top event only (Event number 1 in your Multi-event), you would then need to email support@workcast.com for us to publish this for you. You can however freely make changes to the other events included, and be able to publish the events successfully.