This article will go through how you can add presenters to appear on your Registration Form and Event Experience
Presenters Tab
Presenters within your event will appear within the Registration Page and Auditorium Page with their details and will also be able to gain access to the WorkCast Studio to contribute to the event.
Add Presenter - You can add an existing presenter who has already been configured in your account as they may have presented on a previous event for example.

Create Presenter - You can create a new presenter to the platform. Clicking the Create Presenter button gives you a pop up requesting the information for your presenter. A presenter can be set up with basic details and further information added afterward.

You must fill in all details with the * next to it, and Summary 1, 2, and 3 are the sections that appear on the live page (more information on this below).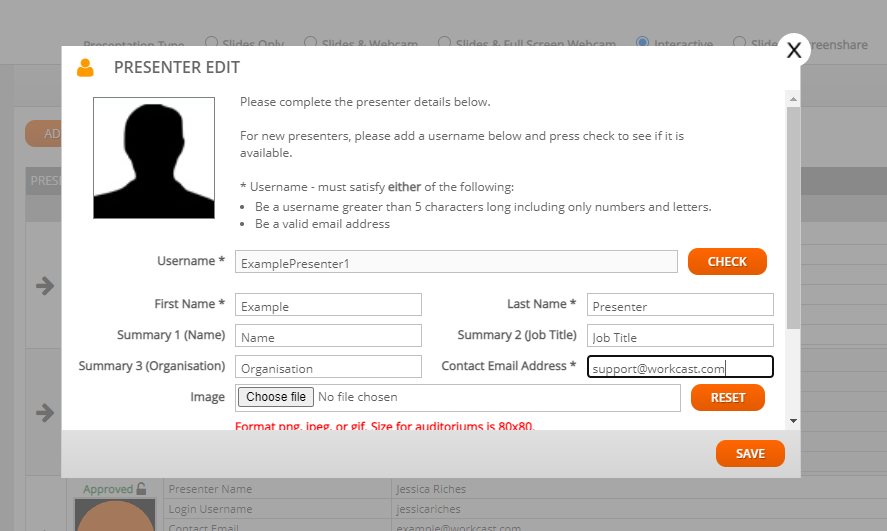 Biography - You are able to add a biography for your presenters, by clicking into the biography content box and adding any text you need. It has our formatting WYSIWYG box there so you are able to add any text formatting/links to the biography. This content box has a 4,000 character limit.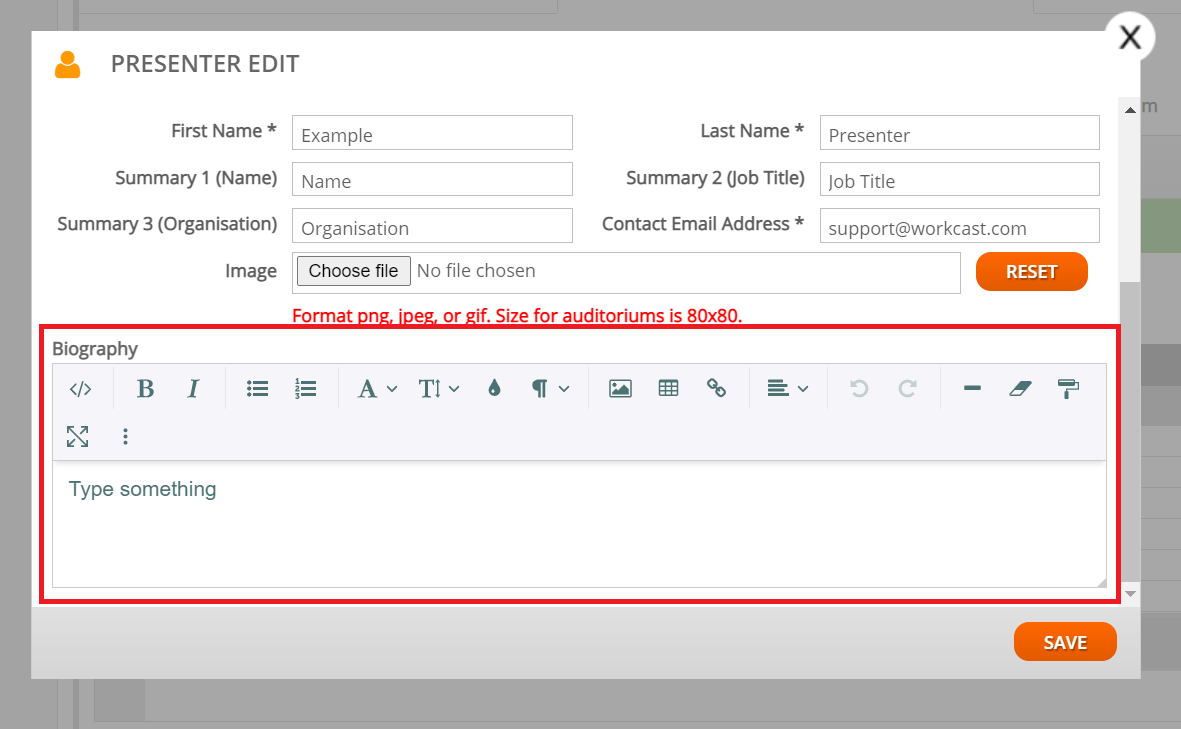 Email Login Details - you will need to email your presenters their login details for the event. This will email them directly with the details for the WorkCast Studio session for the specific event and the presenter's unique login credentials, along with best practice for the presenter studio. This can be done at any time before the event. By entering the presenter's email address into the Contact Email Address box, it will ensure that the login email goes direct to said presenter.
Note: Each presenter MUST have their own unique email address and do not share logins with multiple presenters.

Editing Existing Presenters - to edit an existing presenter simply click on the Edit icon next to their details, you can then amend any of their details or add an image. Images must be 80x80 pixels, to help with getting your images to be the correct size, you can use something like befunky. (we recommend .png or .jpg image types).
Summary Fields
Summary 1 (Name)
Summary 2 (Job Title)
Summary 3 (Organisation)
These fields are the presenter information that is displayed in the Registration and Auditorium pages.

We recommend the above information to populate these fields (name, job title, organization) but any information can be included in these fields.
Presenters' personal details (e.g. contact email, username, etc) will not be displayed to the audience unless included in the summary fields or biography.
Next steps...Adding Slides/Media to your event