Last updated February 6, 2018
As standard, you will automatically have access to a range of templates to build events with.
If you have purchased a custom template, WorkCast will customise a template of your choice and ensure it reflects your brand.
The templates are fully responsive to work across desktop, tablet and mobile devices. This means templates will automatically adjust according to the device you are viewing an event on.
Master Events
Master Events typically consist of five main template types:
Registration Form

Thanks Page

Auditorium Page

Emails (Confirmation, Reminder, On Demand)

Security Access Page
Live Standard Template Examples
Below you can view live examples of the current standard templates. These include a Registration page, Email confirmation, Security access page and Auditorium.
JUMP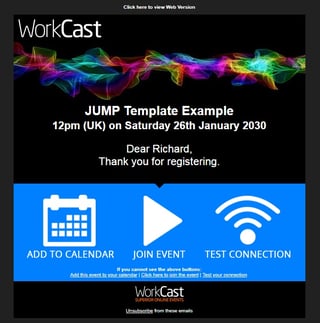 Registration Form: http://www.workcast.com/register?cpak=4052652968409116
Auditorium: http://www.workcast.com/?cpak=4052652968409116&pak=1057255527633808
Note: The iPad image featured on the Registration page can be changed on a Custom Template but cannot be changed per event.
SIDEWAYS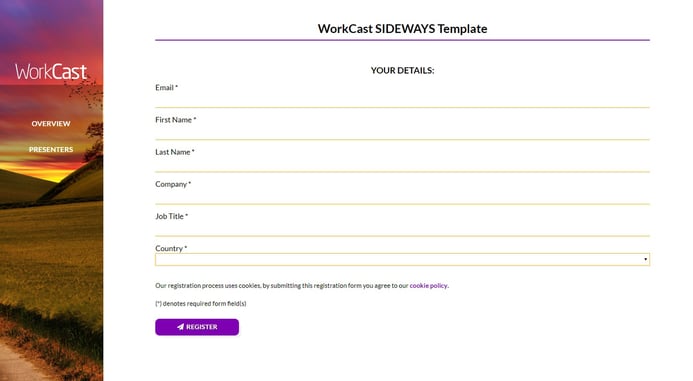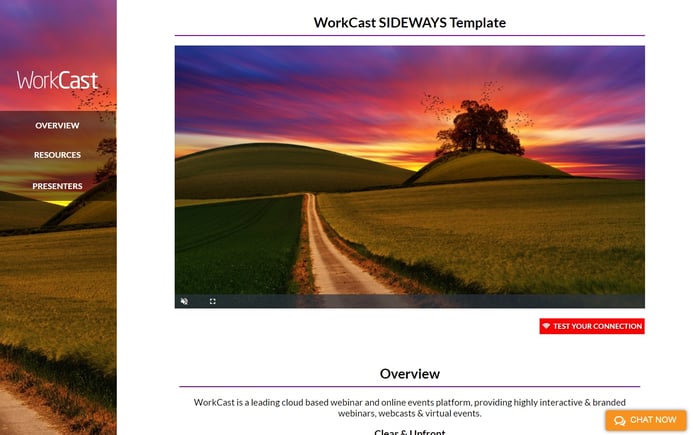 SCENIC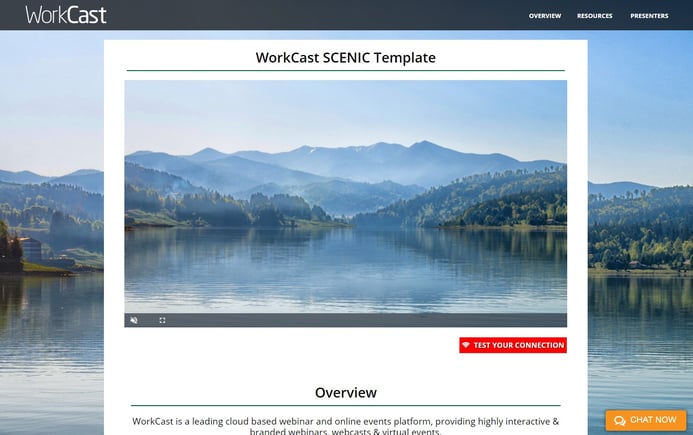 Auditorium: http://www.workcast.com/?cpak=6342497936745331&pak=6667756252113055
Security Access Pages
Depending on your event setup, Security Access pages appear before you enter the auditorium page. The background colour of this page can be changed and can include your company logo.

Custom Designs
General

text heading styles

and

font colours

can be changed within your template.
Fonts

can be set to any standard web safe font or

Google font

if required.
Media windows within your auditorium display a 16x9 splash image if media is not yet streaming or is set to On Demand. This acts as a 'holding image' and can include photos, graphics and text. You can change this per event.
I

f you think a

background image would benefit your page but don't have any particular in mind, our designers will happily suggest an appropriate image to reflect your brand.



Emails display your company logo and will pull through a sponsor logo if you have uploaded one. The banner image and background colours can be set within the template.
Custom Design Example
Below you can see the Scenic Auditorium template with example custom branding: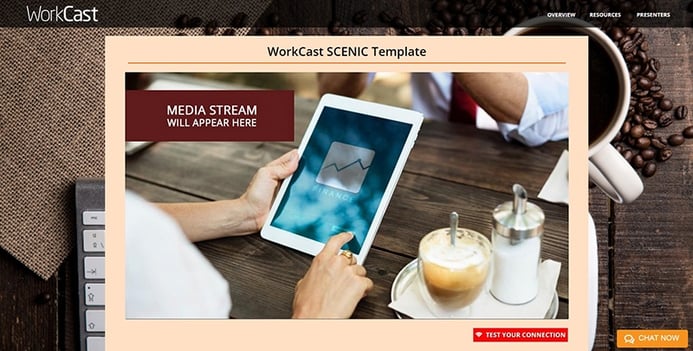 Providing images: The Bigger The Better
For the best results, please provide your company logo as a transparent PNG and at least 500px wide.
For background images please send the biggest version of the image you have available. Our designers can optimise images appropriately. We recommend that images intended to be used as backgrounds be at least 2100 pixels wide and 1000px high.
Email banner images will display at 600px wide.
Images must either be part of your company's brand, bought with an appropriate license or be free from copyright restrictions (a CC0 License - more information at the link below).
https://creativecommons.org/publicdomain/zero/1.0/
Was this article useful?
Please provide us with any feedback to help us improve this page