Presenter Only Chat Pod
This article will take you through how to use the Presenter Only Chat pod
The Presenter Only Chat is a great way to keep in contact with questions, timings, and cues throughout the live webinar. This chat cannot be seen by the audience. The Presenter Only Chat can only be seen in the WorkCast Studio in the Presenter Only Chat pod (or in the Chat tab of the Media Hub).
When the Presenter only pod is open this will display the names of the Presenters/Hosts and Producers logged into the studio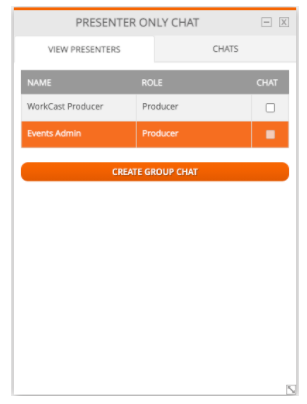 Click into the Chats tab and here any Presenters/Hosts or Producers who are logged in can type in a message. This will only be seen via the Presenter/Hosts and Producers that are logged into the studio (so it's not visible to the audience).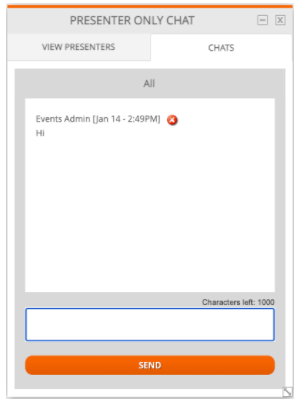 You have the ability to create a private chat with any other Presenters/Hosts or Producers that are logged into the studio. In the view, the Presenters tab ticks the box of the user with whom you would like to have a private chat. This can include multiple users if required.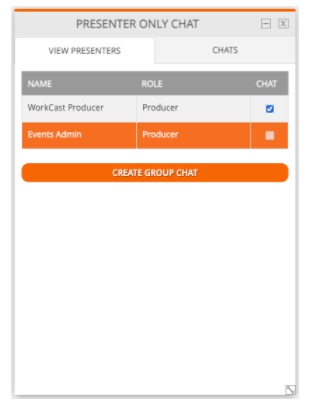 A new sub-tab will be created in the main chats tab. You can now toggle between if you wish to enter a chat into the main ALL sub-tab or the private chat group subtab that you have created, The private chat subgroup will show the initials of the Presenters/Hosts or Producers that you have added to the private chat group.