Within the Interactive Studio presenters have the ability to select a default camera background image, upload a custom image or blur their camera background.
How to change your camera background display
Once you are logged into the WorkCast Studio ensure you open the 'My Connections' pod and have your web cam connected.
Click the three dots from within the menu bar which will show additional menu options. From this menu choose 'Select background'.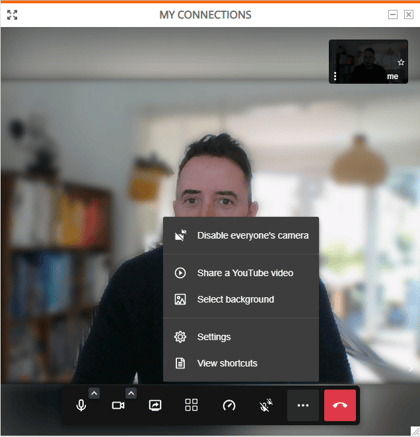 You will now see a new window appear with a selection of options. You can select any of the options listed below and then choose 'Apply' to see the option take effect.

Add background - Upload your own image background. Recommended image aspect ratio is 16:9. Common image formats such as JPEG and PNG images can be used. Please note: If you add a company logo as your background that is not in a 16:9 aspect ratio you may distort the logo. Also note that you will see your logo and any text flipped within just your own studio view. Audience members watching the live broadcast will see the text/logo appear the correct way round.
Slight Blur - A recommended option to slightly distort your background setting.
Blur - A stronger blur to distort your background setting.
Default Image Selections - You can choose from a range of generic background images if you do wish to hide your background but not upload or select the blur options.
None - You can always revert back to 'None' to remove any of the background effects.

Please note: It is recommended whilst speaking to keep your movement limited to stop the background blur/image distorting your main profile.


Screensharing - With picture in picture
If you are sharing your screen and chose to show your camera please note that the background functionality is not supported whilst within this mode. If you have selected a background option prior to screensharing, then once you stop screensharing your camera will revert back to your chosen selection.
Background Options Example
The below shows three presenters connected within the Studio.
Presenter 1 (top left) - Has uploaded a custom background image
Presenter 2 (top right) - Has chosen to select the blur background option.
Presenter 3 (bottom) - Has chosen to upload a custom background incorporating a company logo.