Connecting via the Jitsi App is advised ONLY if the speakers have tried connecting via a computer on multiple browsers/networks and are unable to connect.
Please note the following article contains steps which may require you to download and use a 3rd party application named Jitsi.
We DO NOT own the Jitsi app and therefore have no administrative rights to update/manage this.
We also DO NOT provide any assurance the following steps will work on all devices.
Requirement:
Google Chrome must be installed on the device and used to access the studio via the login details provided.
Open the studio URL in Google Chrome. (This will have been provided to you with your login details)
Enter your username and password and click login
Once in the studio, the My Connections pod may present you with the below options: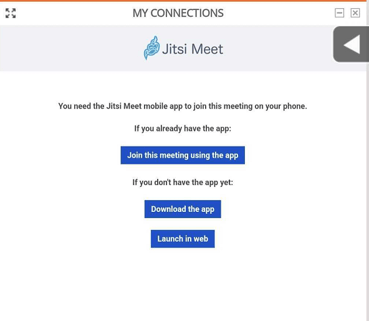 We'd recommend first clicking to Launch in web - this will launch the My connections, asking you to allow access to your Mic/camera and connect you within the Chrome Browser. You will have full access to all other pods within the WorkCast Studio here.
If Launch in web does not work you will need the 3rd party Jitsi app. (Please note the app allows you to connect to the My connections pod but does not give access to any other WorkCast Studio pods. (I.e Attendee questions, presenter only chat, polls)
If you have the Jitsi app already installed on your device, click the Join this meeting using the app.
If you don't have Jitsi app installed click Download the app. You'll then be taken to AppStore/ Play Store where you can install the app.
Once the application is installed you can join the studio in two ways:
1. Return to the studio tab within Chrome and click Join this meeting using the app. .
2. In the app, enter the studio URL to go to the event session.
How the app will appear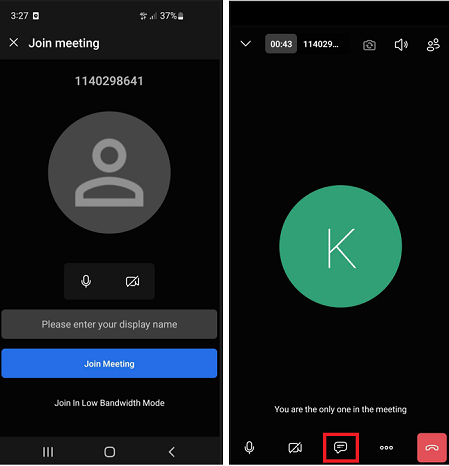 You will first be taken to the Studio Lobby where you can choose to join Muted/Unmuted, Hidden/ Unhidden. You can also enter your name before joining.
Please note that the mute/unmute and hide/show camera icons are the same, however the chat function (indicated with a red box) is not a WorkCast function and doesn't allow you to communicate with other studio users.
Troubleshooting connection issues with Jitsi App.
As the application is 3rd party we are unable to extensively troubleshoot any issues you may face however If you have issues connecting to the app then this may have to do with permission on the device itself. For example, it may come up with pop-ups asking for permission to access the camera and microphone or you may need to go into the device privacy settings and changes these manually.