How to Use Social Media in Events
Customers of WorkCast Business, WorkCast Business Pro and Enterprise plans have the option to use social media in their event templates.
Social Media as Event Promotions
As the WorkCast platform is built on HTML templates, it gives tremendous flexibility for the use of social media through the event workflow.
Social media is a key way that events can be promoted and as standard at WorkCast includes the option for this.
Social Media Share icons are used to help potential registrants and attendees share the details of the registration page or auditorium with their social media communities.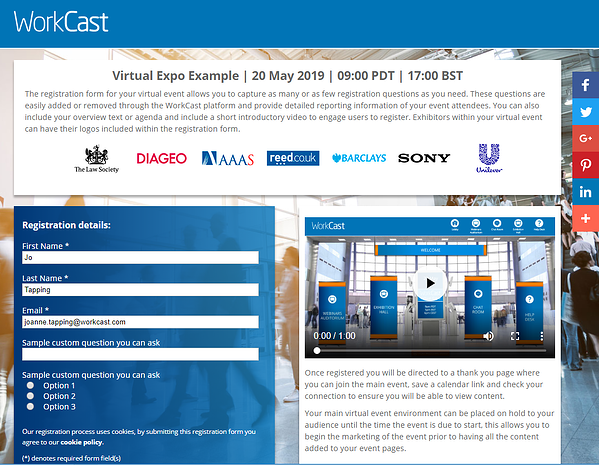 When the social media icon is clicked it will take the title of the event plus the URL for the page for you to post to your followers as shown in the Twitter example below.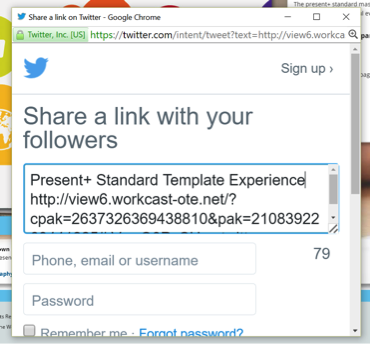 Alternatively, users can take the registration URL or event URL and post these manually into any social media platform they choose.
Social Media as an in Event Feed
It is also possible to engage audiences using social media during an Event, either Live or On-Demand. The Template can be created with a social media feed built into either a Registration Channel page or an Auditorium and can be a great way to get audience interactivity fed into your event.
With this option, you can share your Twitter handle on your event page for example, or set up moments/favorites within Twitter to display certain hashtags during a particular event. You could use this with sponsor led events too.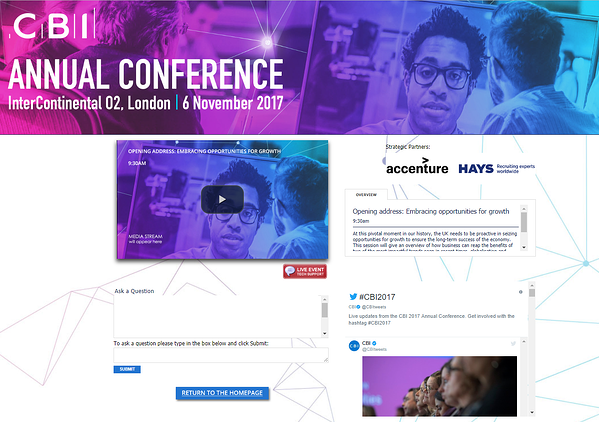 Promoting Recordings and Channels
Social media doesn't just need to be for an individual event, it can be used to promote the recordings as either individual On-Demand recordings or to promote channels of webinars.