Last updated February 27, 2018
What are they?
Polls are a function within the WorkCast Platform that allow the event organiser/presenter to ask the audience a question during a webinar.
The poll is pushed out from the WorkCast Studio and appears within the auditorium that the audience is watching the webinar.
---
They act as a way of:
Assessing the audience
Encouraging them to interact with the session
Gathering opinions from them about the webinar content
How to use them
To add a poll to your webinar, simply go to your Event and head to the Event Experience section.
In the Extras tab, go to Add Polls and click the orange ADD button. The Polls popup will then appear.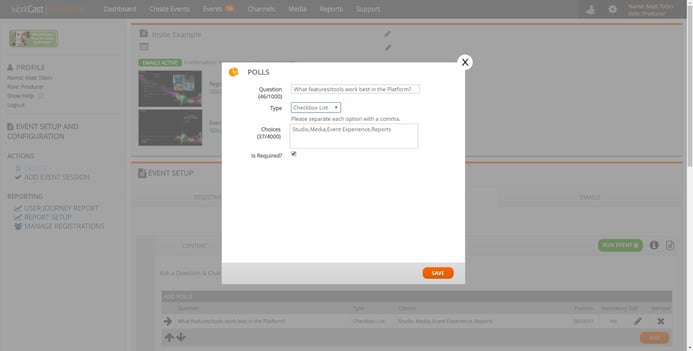 ---
You can type in the Question you want to ask in the corresponding text box.
Then, you can choose the type of answers you want the audience to choose from:
Checkbox List
Dropdown List
Radio List
Text Field
If you choose either of the first 3 options, you need to input the answer choices into the Choices text box. There, you need to separate each answer choice with a comma.
If you don't separate your choices with a comma, they will not be differentiated by the Platform as separate choices.
---
Finally, to make responding to your poll question mandatory, for the audience, check the bottom option; Is Required?
The audience will then have to answer your poll question. Otherwise, the poll will appear on the page until the end of the webinar (unless the page is refreshed, or they leave). They can watch the webinar if they don't answer, it just plays in the background.
Hit Save when you're done and the poll question will be added to your event.
Using them in the Studio
To use Polls within your Live webinar, you must first ensure you have the Event Polls module selected, so it appears in your Studio during the event.
To do this, click the black box with a white arrow in the top-right of your Studio screen, and selected Event Polls from the list.
It will then appear at the bottom of your Studio, in your modules.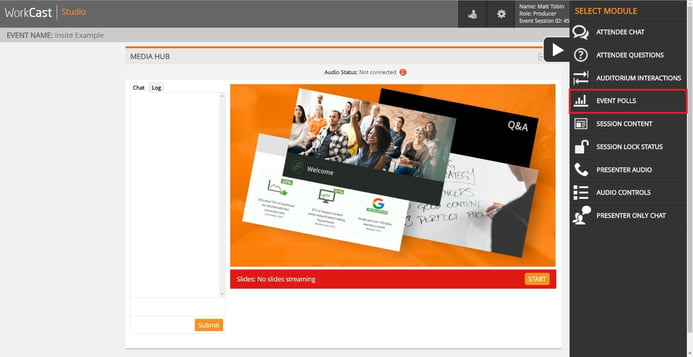 ---
Once you have started broadcasting, and are ready to ask the audience your poll question, go to the Event Polls module and click the green Ask button.
The audience will then see the poll question popup in their Auditorium, prompting them to answer.
When you have allowed ample time for them to respond, you can retrieve the results of your poll by clicking the green Get Results button.
The percentage results of your poll will then appear in a Pie Chart below. You can also choose to publish these results to the audience, if you so wish, by hitting the green Publish button.
Likewise, you can End the poll by pressing the corresponding button, which will remove it from the Auditorium.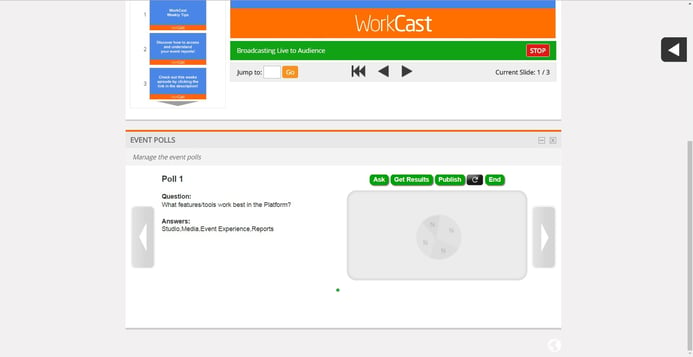 Was this article useful?
Please provide us with any feedback to help us improve this page