This article will take you through the additional elements to the studio when your event is configured to Simulive over and above slides only.
The WorkCast Platform, as well as running live events, also allows you to run Simulive events. These events use pre-recorded media to play out to the audience at a scheduled time. As such, they are set up as though they are a live event but without the need for any interaction at the point of the broadcast from the event organizer or presenters.
The default pod is the media hub. This means that nearly all functionality is the same as if the event was configured to Slides only except for a few key differences. To view the guide on the Slides only Studio click here
Uploading Media
As opposed to uploading slides for a Simulive event you would need to upload an MP4 file. This can be done either in the event set up stage if you wish to be reminded of this process click here
Or you can upload the media directly via the Studio.
Simply click Upload Media, select your slides from your computer and they will be uploaded to the WorkCast platform. A loading icon will display meaning the upload is taking place.
Adding slides already uploaded to the platform requires two steps:
1. Select Upload Media to load your slides to the platform.
2. Click Search Media and choose the relevant slides from your library. Your event slides will be replaced with your selection.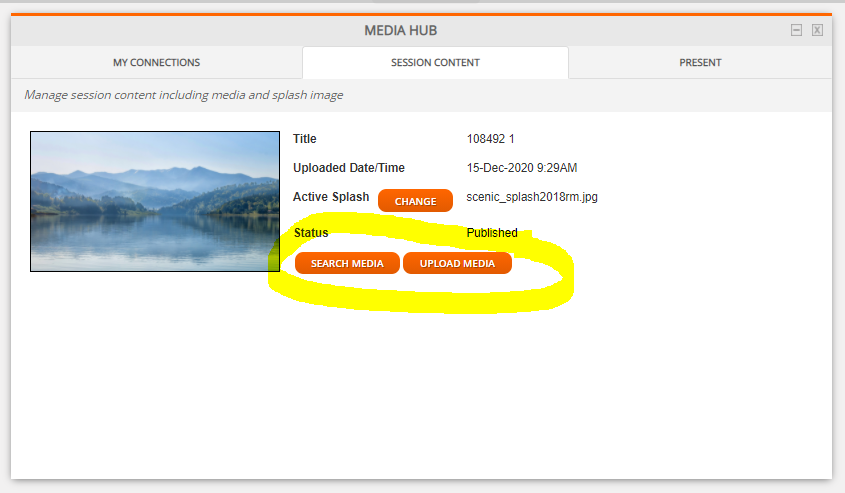 Previewing Event
The Media Hub tab will show you a countdown clock until the event begins. If you are within the available preview time you can hit Preview to see your media play. This will broadcast in the Media Hub and on the event's Auditorium page.
Once in preview mode, if you wish to listen to the audio click the test event audio button.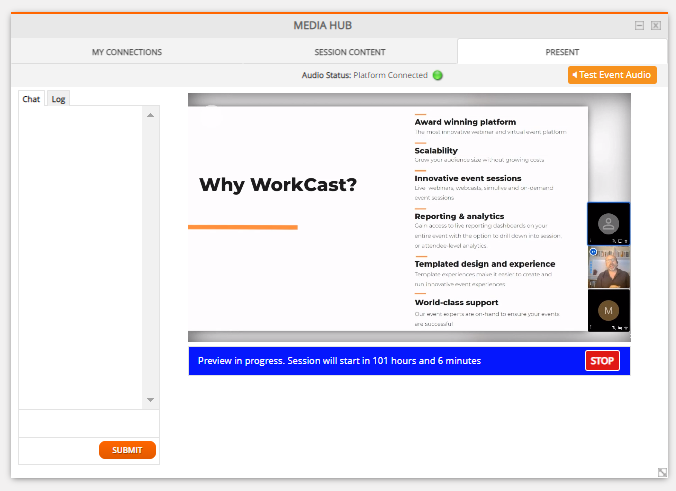 Ensure that once you are happy click the stop button to stop the preview.
Please note:
If you choose to preview and test the audio of your media we advise locking your Auditorium temporarily until you have completed the preview process. This prevents any viewers who may be visiting your auditorium page at that time from seeing your broadcast content.
To do this, visit the Auditorium Interactions pod within the WorkCast Studio. Be sure to unlock the Auditorium once complete so viewers can access the page on the broadcast date.
Please note: Locking an Auditorium will not work if you are embedding your media into HubSpot or your own website. Please bear this in mind when previewing the media on embedded events.
Once in preview mode, the bar under the media player will turn red and have the message displaying Session in progress and a blue stop button. This is will allow you to stop the preview of media at any time you wish.
Please click back into the Running your event section to view other pages that include the other pods available within the WorkCast studio. This includes:
Presenter Only Chat
Event Polls
Attendee Questions/Attendee Chat
Event Interactions
If your event is configured to the below types also click back to find guides:
Slides only Studio
Simulive Studio
Live Stream Studio (please note to run this style of event you required a licence add on to the Producer+ licence)