Last updated October 12, 2018
The studio is where event experiences for attendees are controlled and where presenters control event slides while managing other event features such as questions and polls.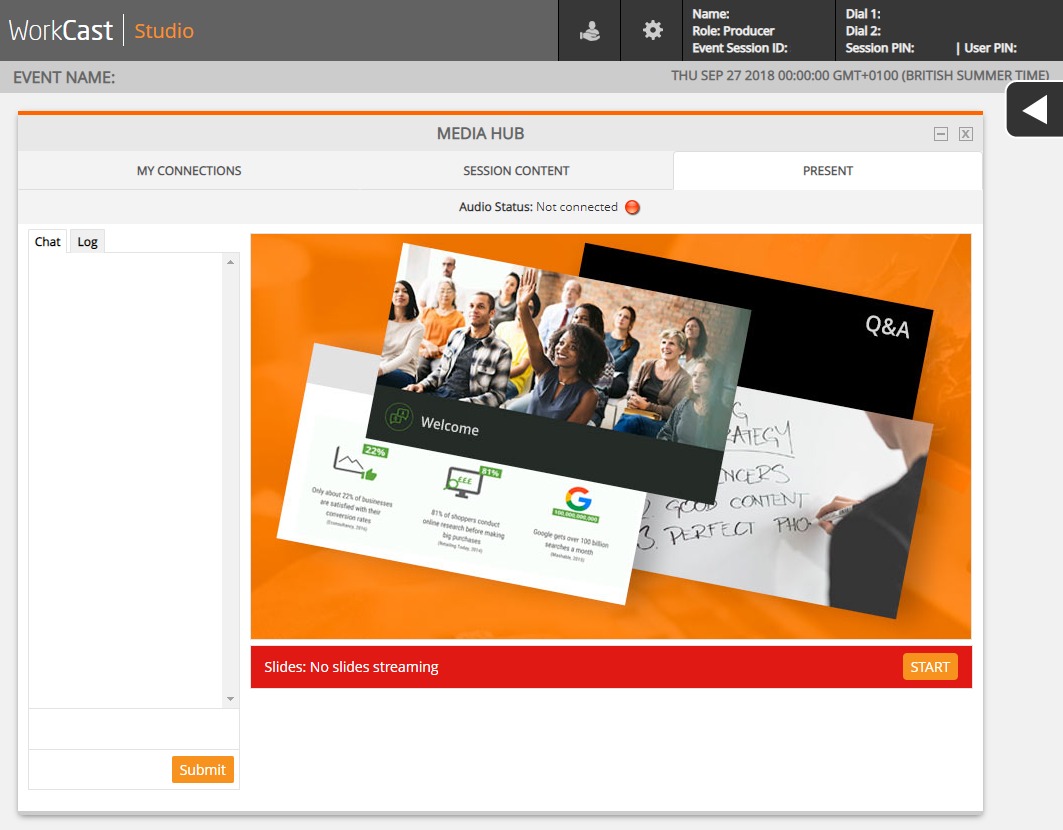 User Information

User information is displayed in the top right of the page showing your details, user type and your audio dial in option (if WorkCast Audio phone option is set up). For more details on the WorkCast Audio phone option please see here
Note: These details are session specific - please ensure you have the correct details for your session.
---
Pods/Tabs
The studio contains a number of different pods. Each pod can be expanded, partially minimised or removed from the main section and returned to the sidebar.

Available Pods:
Session Content
Upload or choose your slides for the event and set the aspect ratio of the media. Slides can only be loaded if the session has not yet been started (slides started in media hub).
Uploading slides to a session is a single-stage process; simply click Upload Slide, select your slides from your computer and they will be uploaded to the WorkCast platform. A 'loading' icon will display meaning the upload is taking place.
Adding slides already uploaded to the platform requires two steps:
1) Select Upload Slides to load your slides to the platform.
2) Click Search Slides and choose the relevant slides from your library. Your event slides will be replaced with your selection.
Note: slides upload time can vary depending on the size of the document you are uploading - this may take a few minutes.
For Scheduled Replay and On Demand events, follow the same steps to upload your .mp4 video file. You will see media upload buttons rather than slides upload buttons.

Session Lock Controls
You can lock your event auditorium page to disable attendee access. This can be set manually or scheduled.
When a page is locked, attendees will see a message prompting them to return at a later date (this can be edited and personalised). You can gain access to your 'locked' pages by entering a unique Lock Bypass Key which is displayed within the pod.
Scheduling locking and unlocking your event page allows you to set specific times frames where attendees can and can't access your events.


Media Hub
The Media Hub is the main presenting pod in the WorkCast studio. This is where slide content is displayed to presenters and where slides are navigated.
Sections, Buttons & Options
---
- 'Start'
The start button loads and readies slides for broadcasting live events. The audio is also connected which can take up to a minute (note: this will not broadcast the slides to attendees).
Once selected, any other users logged into the studio will be able to see the current slide after clicking 'Join'.
The Audio Status light will display when slides have loaded showing that audio is connected to the studio. At this stage you are able to test your audio by dialling into the phone bridge and ensuring you can hear yourself through the Media Hub slides window. This should be done prior to broadcast to ensure you are connected to the correct audio option and that your sound is suitably clear. You should unmute the play controls in the video window to test your audio.
---
- 'Broadcast'
At the designated start time of your event, click 'Broadcast' to begin streaming your content to your audience. A confirmation box will initially display to ensure you are ready to broadcast the event. When 'Proceed' is clicked, a countdown will initiate and your broadcast will display in the event auditorium after the countdown is complete.
Presenters are unable to initiate this process.
NOTE: The 'broadcast' start is also used as the start point of your event recording.
---
- Media window
This media window displays the current slide; you can see and hear what is being broadcast to your audience
Its basic video controls allow audio to be unmuted.
---
- Back and Forward buttons
The backwards and forwards buttons allow any presenter to move presentation slides forward and backwards
NOTE: Each click will move to the next transition (much like viewing within PowerPoint) meaning, if animations are present within slides, the next animation will play.
The buttons will turn green when you first click on them to show they are active. When green, you are able to use the left and right keys on your keyboard to transition (a clicker can also be used).
When clicking elsewhere (e.g. 'presenter chat), the buttons will turn orange meaning they are deactivated. Click on the buttons again using your mouse to reactivate them.
---
- Back to start
This will reset your slides and move to the first slide in your presentation. This can be useful when you want to show a title or cover page.
---
- Slide Counter
The counter displays which slide is currently active and how many slides are included within the presentation.
---
- 'Stop'
Pressing this will stop the event stream broadcast for all presenters and attendees. This is generally only used at the very end of an event. This will also end the event recording.
Presenters are unable press 'Stop'.
---
- Slides Images
Once you have started your slides you will see static images of the presentation to the left. This shows the current slide and the next transition (what will display after the following slide is selected).
You can also use the thumbnail images to move to specific slides within the presentation.
---
- Presenter Chat
Allows all presenters to communicate via text during the event. Presenter Chat is available for all studio users and is not visible to audience members.
---
- Technical Log
This shows all keep activity that the WorkCast studio manages during an event. This helps WorkCast Technical Support identify any problems.
---
- Cursor Controls
'Use Cursor' and 'Show Cursor' can be activated to allow you to interact with your PowerPoint to start videos or animations within the deck not set to autoplay/autostart.
---
- 'Lock Slides'
Locking the slides in your presentation allows only Hosts or Producers to control the slides. Slide transition buttons for Presenters will be deactivated.
---
- 'Image Mode'
This allows you to view a static image version of your presentation in the large play window rather than the live stream. Videos and timed transitions will not play in this view - the audience view will remain unchanged.
---

Attendee Questions
All attendee questions appear here for presenters to view. A section to 'Ask A Question' is included as part of the auditorium build but can be disabled if not required for specific events.
A more detailed explanation of this pod can be found here.


Attendee Chat
It is possible to include 'Participant Chat' as an alternative to 'Ask A Question'. The Attendee Chat pod allows you to post messages and also delete any posted messages.
This feature has two main functions:
1) Attendees can freely communicate between each other within one chat window.
2) Messages to individual attendees can be sent allowing you and the attendee to communicate privately.
Find out more about Attendee Chat here.


Event Polls
Polls are created during the event setup. When polls exist for an event, they will appear in the Event Polls pod. You can move between polls by clicking the large arrows at either side of the pod. If these are green then they are active.

Each poll questions initially only has the 'Ask' button available. When clicked, this will send the poll question to the online audience.

One you have pressed 'Ask' a 'Get Results' and 'End' button become available.
Get results will pull back all the known responses at that time and provide a pie graph of the results, showing percentages and numbers for the results. You can continue to press Get Results to refresh your results view.
The End button closes the poll and it will no longer gather results from attendees.

Once you have used Get Results, the 'Publish' option is available. This will publish the pie graph results to all the attendees of the event. Attendees see the pie with percentage results only.
All results are available post event in the reporting pages.
Find out more about Polls here.

Interactions
This feature lets you send a specific command to the attendee auditorium. The standard commands are:
Redirect to a URL - pushes all attendees from the event auditorium to a specified URL:
Enter the desired URL in the bar provided. You will be asked to access and check the URL before proceeding - you can only 'proceed' once this step is complete. This option is often used for post event surveys.
This will redirect anyone on the live event page within the same tab/window.
Display message - displays a pop-up message to all attendees:
Text entered within this section can be displayed to all attendees on the event page via a pop-up box. You will be asked to confirm the message before proceeding.
Refresh auditorium - refresh page from server:
Refreshes the auditorium for all attendees to allow any updates be applied. You will be asked to confirm the refresh. This is generally used to apply updates made to the event while it is live.
Change Presenter - display the presenter that is speaking to the attendees.
When a presenter change command is sent the auditorium will update to show that this presenter is talking. This is generally used when multiple presenters are speaking one after another. It allows the attendees to see the presenter photo and biography easily while the presentation is ongoing.

Any presenter associated with the event at event setup will be available in this list. Select the presenter by clicking their image then press the 'Change Presenter' button. The Live Presenters section shows which presenters are currently showing, Pending presenters shows which will be shown after you press 'Change Presenter'.

This functionality is template specific and should be confirmed with your Account Manager or Event Manager to clarify if it is available.


Presenter Audio
Presenters are able to present using either microphone or phone bridge.
Microphone: a presenter is able to connect their microphone to speak during the event and also hear any other presenters on the event no matter what audio option they have chosen.
Phone Bridge: presenters can dial into the event via phone. This option is often preferable as it does not rely on the user's own internet connection and also provides consistent audio (the presenter may not have a a good quality microphone).


Audio Controls
This allows the Host or Producer to see who else is connected to the Studio session and also if they have connected via microphone.
Here presenter audio can be tested using the orange Test Audio button which is located above the presentation slides in the Media Hub.
Click this to mute or unmute your audio. The status of your presentation audio will be shown in the status bar below your presentation slides in the Studio.


Presenter Only Chat
This section is an extension of the presenter chat in the Media Hub and allows presenters to have private conversations. Users are notified of any new chat messages.


Camera and Microphone
Presenters can broadcast their webcam while presenting. The webcam and slides layout allows up to 3 presenters to appear at the same time.
Further instructions on how to use the webcam feature can be found here.


Screenshare
Presenters are also able to share their screen with the audience and switch back and forth between this and slides.
Further instructions on how to use the webcam feature can be found here.


Was this article useful?
Please provide us with any feedback to help us improve this page