To run great-looking Live, Simulive or On-Demand webinars directly inside a HubSpot landing page follow the instructions below.
There are four main steps to follow:
Grab the Scenic Automated Webinar Workflow Pack from HubSpot
Create your Webinar in your WorkCast Account
Amend the copy and content in your HubSpot pages
Practice and present the webinar using the WorkCast Studio
Downloading the Templates
To download the Automated webinar workflow templates to your HubSpot account you must be logged in to HubSpot and then follow the link below. Alternatively, you can download the pack direct from the HubSpot Marketplace within the Create Events section of your WorkCast account.
Download the Automated Webinar Workflow Pack Here.
The link takes you to the HubSpot Marketplace where the event templates are available. By clicking the Get pack for free this will download the webinar templates and install them within your HubSpot account.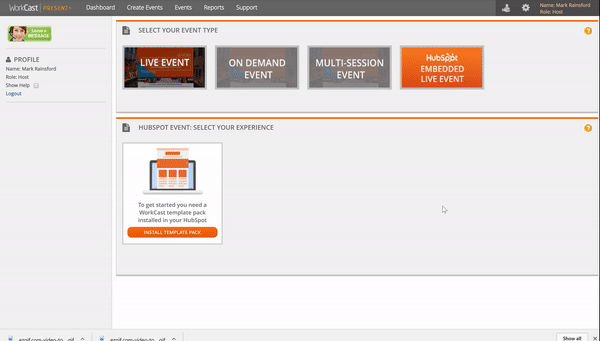 Auto Webinar Creation in HubSpot
Within your WorkCast account, you will need to create a HubSpot embedded event using the downloaded template.
Simply select Create Event within WorkCast and then choose HubSpot Embedded Live event.
You can select the downloaded template and give the Webinar a Title, Date, and Time. This will automatically create a registration landing page, registration confirmation landing page, main event landing page, and workflow within your HubSpot account.

Amend your Webinar Details in HubSpot
You are now able to amend the webinar copy as you desire from within HubSpot.
Multiple items are created automatically but you are able to amend many aspects of the Registration Page, Confirmation Page, and the Live Webinar Page. Within WorkCast we display your HubSpot URLs for easy access to edit.
For example, you can then:
Add your logo
Amend or change the title
Amend the URLs
Add and amend synopsis
Add presenter pics and biographies
Add additional form fields to registration pages
Add CTAs to white papers, links, or downloads to any of the pages
Practice and Present in the WorkCast Studio
Set up your broadcast in WorkCast and then you are ready to rehearse and present.
In WorkCast you can configure the broadcast and interaction elements of your webinar including:
Adding guest presenters and providing logins
Adding polls
Adding presentation slides
Choosing Event type which includes Interactive, Slide Only, Simulive and Live Stream
Change the splash screen people see over the media window before and after a webinar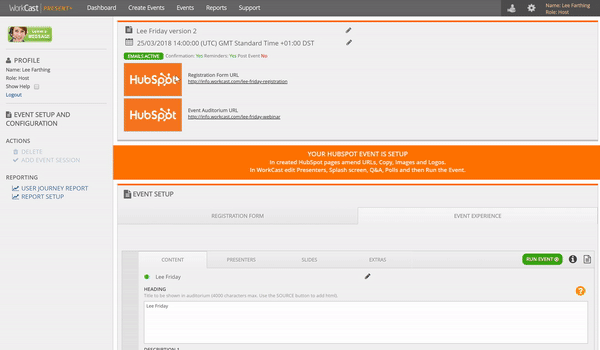 You can now practice and then broadcast your event when ready. The presentation will broadcast directly within your HubSpot landing page.
Interested in a FREE 14 Day Trial?
You can signup here for a free trial of HubSpot today!