This article will go through how you create your initial event
Creating a new Live, or a Simulive event


Click on the Create a New Event or the Create Events button, then click Live & Simulive to preview the template you wish to use for your event. You do this by clicking on one of the experience images which will show you a preview image.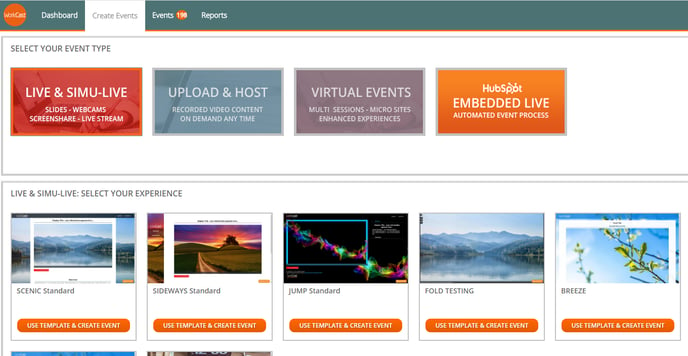 When you are ready click Use Template & Create Event which will give you a pop-up to create your event. You will need to enter:
Event Title
Description
Scheduled Start Date
Scheduled Start Time
Duration
Timezone
Presentation Type (Note: Present+ do not have access to select the Simulive presentation type)
When you have entered these details click Proceed.
Note: These elements can all be edited once the event is set up.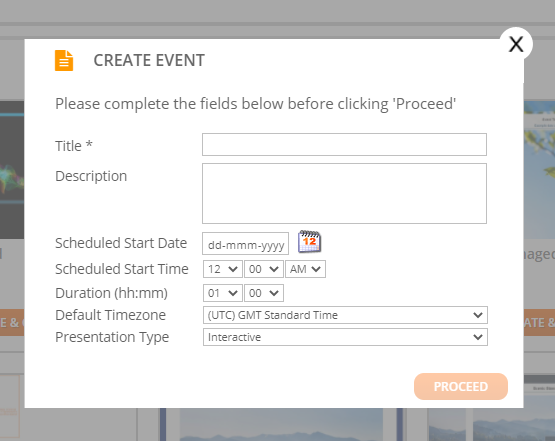 Your event is now created in its basic form. You would be able to run an event now with the basic settings.
Event Summary Section

Title - This is the title of the event as it will show in your account. Clicking on the title will allow you to change it. Once changed, click off the title and the pencil will change to a green tick to confirm the change in title has saved.
Date/Time - This is the date and time of the event. All email communications and reporting is configured using this date/time. It can be edited by clicking on it in this section.
Emails - See a live status of your emails to be dispatched from the WorkCast Platform. As standard, the Confirmation and Reminder emails will be automatically activated when an event is created.
Auditorium URL - This is where your attendees view the live event. As standard, no attendees will be given access without first registering, which they do through the Form URL.
Form URL - This page allows attendees to register for the event.
Next steps.. adding registration form fields to your event