Last updated March 12, 2019
In order to provide the best possible experience for presenters we are able to allow them to connect to the presentation from anywhere in the world using either a telephone connection or microphone on their computer. It is possible to have a mix of these options within a single event with presenters using either option being able to hear and speak to each other.
Telephone Dial in
All events are set up with a presenter dial in number. This allows presenters to dial into the event from any global location. US and UK numbers are provided as standard and others are available here. Once the event is broadcasting live to the audience any audio from the phone is broadcast out to the audience along with the slide content.
Your personal dial in details can be found by logging into the Studio session for your event.

Dial UK - UK/International dial in number
Dial US - US dial in number
Session PIN - this is unique to your event session
User PIN - this is unique to you as a user
To dial into your event as a presenter simply use either Dial 1 or Dial 2 (or one of the international dial in numbers available) then enter the Session PIN followed by the User PIN when prompted.
Presenters can hit * (star) on their telephone to move into a breakout room where other presenters can join also via telephone. This allows presenters to speak away from the main audio room that is broadcast to the audience. The audience do not hear the conversation in the breakout room.
Microphone
In addition to presenters being able to provide audio for the event using their telephone they can alternatively use the microphone on their computer.
Once in the Studio go to the Presenter Audio pod. Here you will see details of the two audio options available. Your presenters can choose either of these methods within the same event, presenters using microphone will hear presenters on the phone and presenters on the phone will hear presenters on the microphone.

To connect your microphone simply click "Connect" and your browser will choose your local device. You may need to change your local settings in order to select the correct microphone on your computer.
Using Webcam Option
If you have selected to use a webcam then ensure you have the correct microphone selected in the 'Webcam & Audio Options'.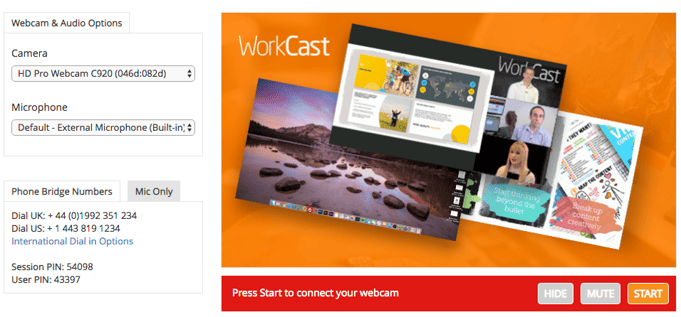 Was this article useful?
Please provide us with any feedback to help us improve this page