How to make an On Demand event
Last updated September 28, 2018
Present+ and Producer+ Users
Once you have run your Live Event, the WorkCast Platform will then give you the option to create an On Demand version. In order to preserve your Live Reporting this will create a new On Demand session in your event.
You can see the number of events available to create as On Demand in the top menu of your account under 'Events'.

Once your event has concluded and the duration time set has elapsed, your event will move to the top of the list in the event listing page and will show as 'On Demand Creation Ready'.
Once you click into your event you will see a bar across the top of the page showing the sessions available to publish as On Demand (multi-session events allow you to create the on demand for whichever sessions you require).
To create your On Demand navigate to the session and click the 'Create On Demand' button (this does not commit any changes at this stage).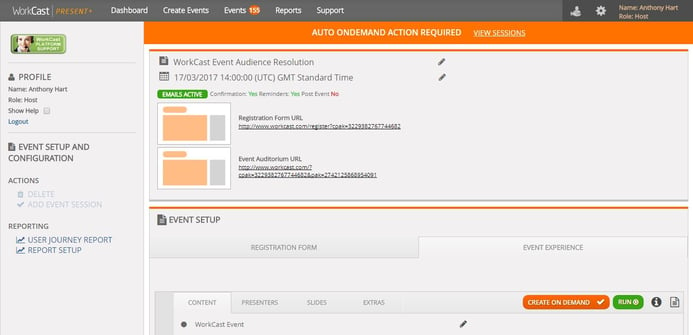 Your On Demand session is now created within the event. You will notice that there are now 2 sessions in your event and you are editing the new On Demand session. At this stage it is not visible to the audience until you are ready.
Note: In the event listing page your event is now showing as On demand available to publish and if you return to the event to edit you need to ensure you are editing the on demand session. At this point your original live session is still active and will have a green icon against it (and will be the top session) whereas your new on demand session is not active yet so the icon will be grey. It is the new one you need to edit.
One you have made your changes you can save and preview.
When you are happy to proceed click Publish On Demand to make the on demand event active.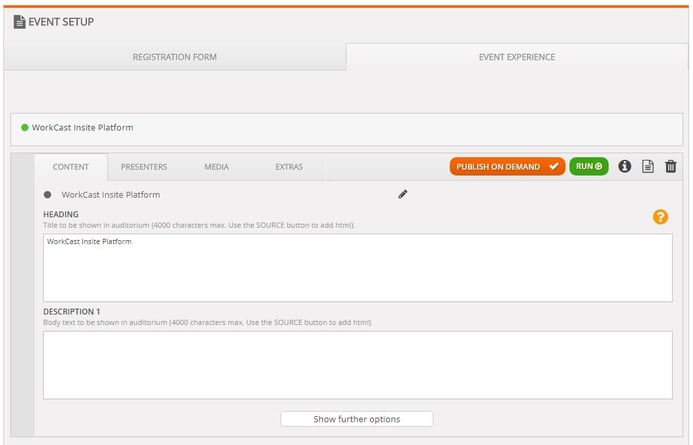 Your On Demand is now created.
Your On Demand Event URL's
The live event URL is the same for the newly created On Demand version. Attendees who accessed the live event will have access to the on Demand without having to re-register. You do not need to provide different URL's for your on Demand version.
Was this article useful?
Please provide us with any feedback to help us improve this page