Downloading Recorded Media
Last updated September 28, 2018
Recording Presentations
The WorkCast Platform records all presentations that are broadcast into an auditorium. The recording begins as soon as the 'Broadcast' button is pressed in the studio, and the 10 second presenter countdown has finished. This means you will never miss recording a session and all recorded content is ready to use at a later date.
Using Recorded Content
Most recorded content is used for the creation of an On Demand version of the Live event. Within both Present+ and Producer+ accounts, this can be done by clicking the 'Create On Demand' button, which starts the creation process of the On Demand session.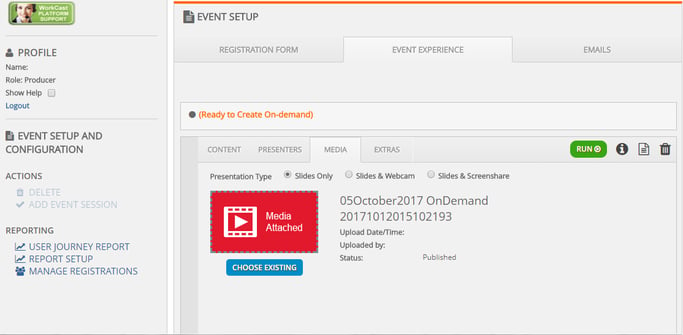 During this, it will update the live audience web URL links to contain the On Demand version of the media.
This clones your live session to create the On Demand, preserving your live event statistics.
Embedding the Media on a Different Website
The WorkCast Platform can provide session embed code, allowing you to embed your event onto an external website.
This is a more advanced option than simple media embed, as you are able to take advantage of the WorkCast Platform reporting function.
This means you can review your viewing statistics and utilise our content delivery network, for smooth viewing globally.
Downloading Your Media
If you wish to download your basic .mp4 media file for your own purposes, there are differences between capabilities of Present+ and Producer+:
Present+
Present+ users are unfortunately unable to download media from the WorkCast Platform.
Producer+
As a Producer+ user, you are able to access any recording done through the Platform, in your Event tab.
In Event Setup, click on the Media

tab

You can find the exact name of the On Demand session media file you wish to download by looking at the

Files column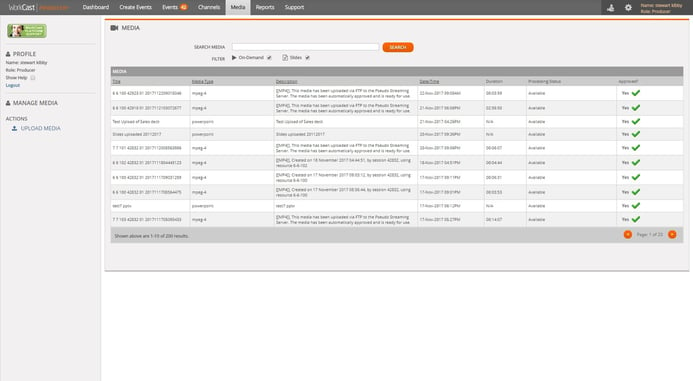 Choose the media file you are looking for. All media is timestamped, so you will be able to see the date of creation to help your search.
Once you have clicked on your media, you will see some download links. Choose the format you wish to download and right click and Save As, or click on it to Open in a New Window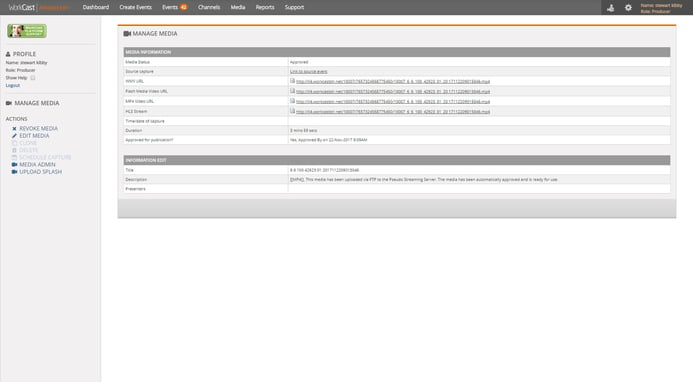 Was this article useful?
Please provide us with any feedback to help us improve this page